Five one pagers made our best-of list in February. We feature stunners from Nique Woodhouse, The Twelve, an informational Every Last Drop, Ian James Cox and a beautiful app concept titled Purple.
Nique Woodhouse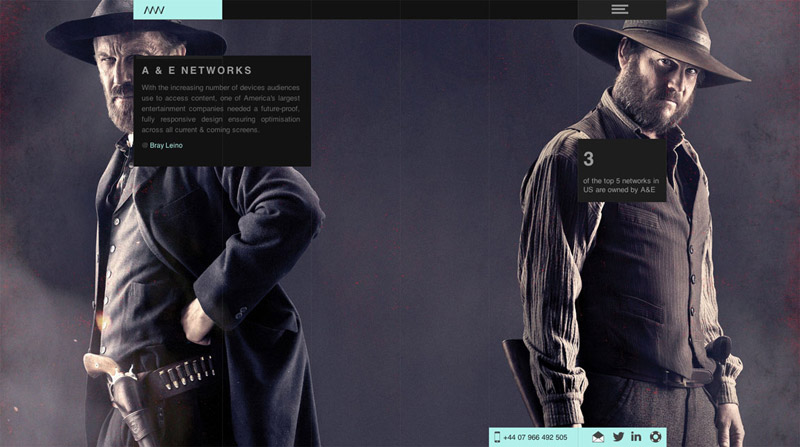 For some reason I'm just loving the big imagery and flow of Nique Woodhouse's portfolio. Each project only has a handful of big beautiful images, a mini project overview and an impressive post-launch stat. All that along with the subtle keyboard nav infographic makes this one pager feel so uncluttered and minimalistic. Great job Nique!
The most difficult obstacle was the inevitable mind-changing that comes with doing your own website. Eventually, you just have to accept the beauty of the web – nothing is completely perfect, the industry evolves endlessly. So you just have to let it go!
The Twelve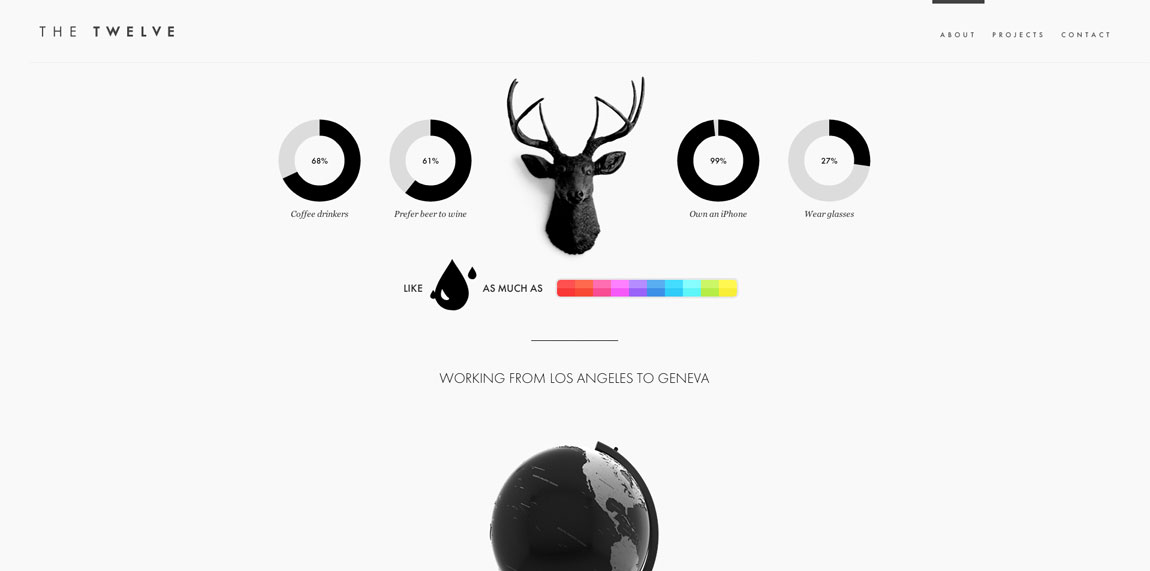 You need a decent screen and a ton of RAM to experience the slickness of this site packed with big imagery and video. Absolutely LOVE the portfolio section with the minimalistic preloaders and smooth transitions. Stellar one pager.
Every Last Drop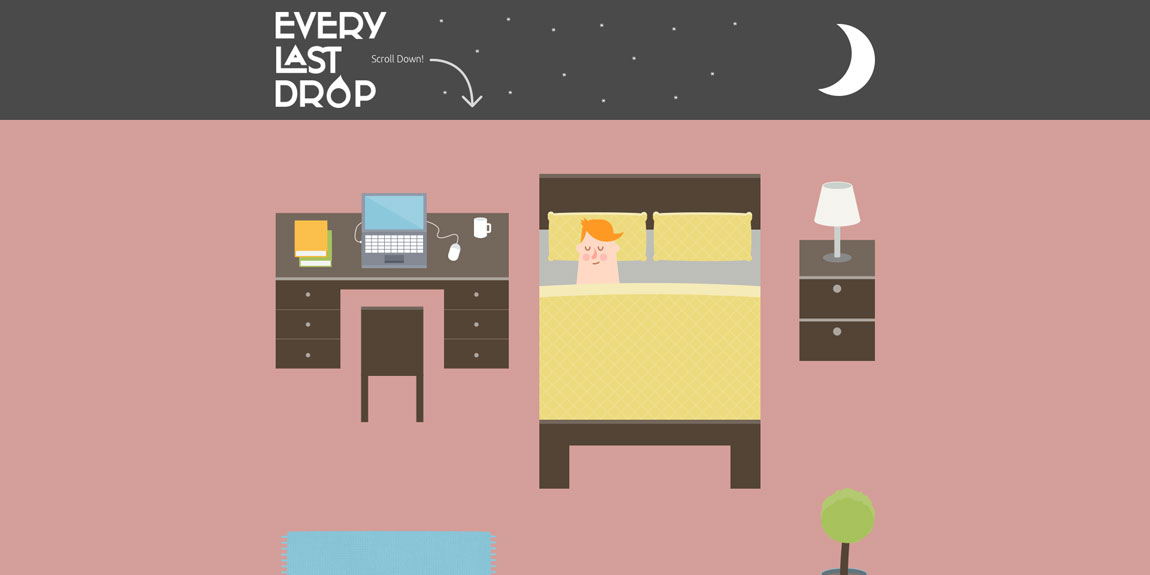 Reminds me a lot of the Dangers Of Fracking one pager featured last year. Absolutely love the illustrations and the slickness of the assemble as you scroll. A quality one pager. See more sites that assemble while scrolling.
Ian James Cox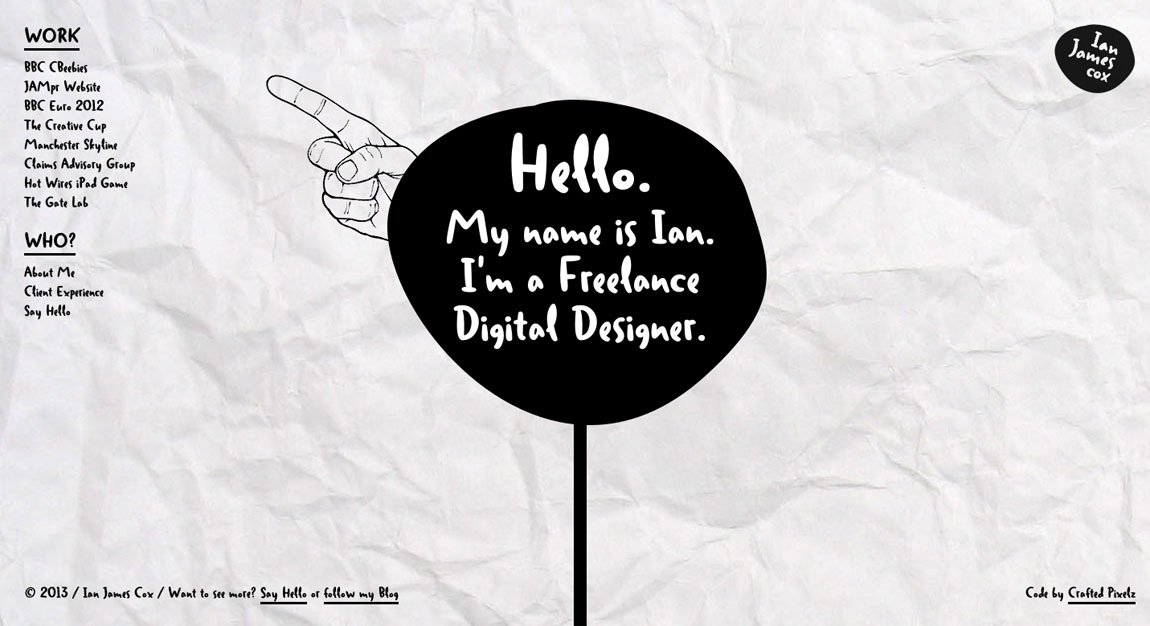 At first I loaded up the site with a ton of windows/programs open and the scroll transitions were super sluggish. So I gave it a day and so glad I did. Ian's unique layout portfolio makes beautiful use of the ScrollPath jQuery plugin. He has also pulled off angled selectable text quite well which is a royal pain to get crisp. Great job Ian!
I came across a jQuery plugin called ScrollPath by joel Besada that really caught my imagination. It set me off thinking how I could create something different with it… ScrollPath is interesting, as it allows you to draw a custom path using a Canvas-flavoured syntax. JavaScript is used to define the co-ordinates and properties of the paths/arcs and these are in turn rendered to the Canvas element. At first it looks like another generic vertical scrolling site. But when the scrolling begins you (hopefully) experience the wow factor I was after. Something like you have never seen before.
Purple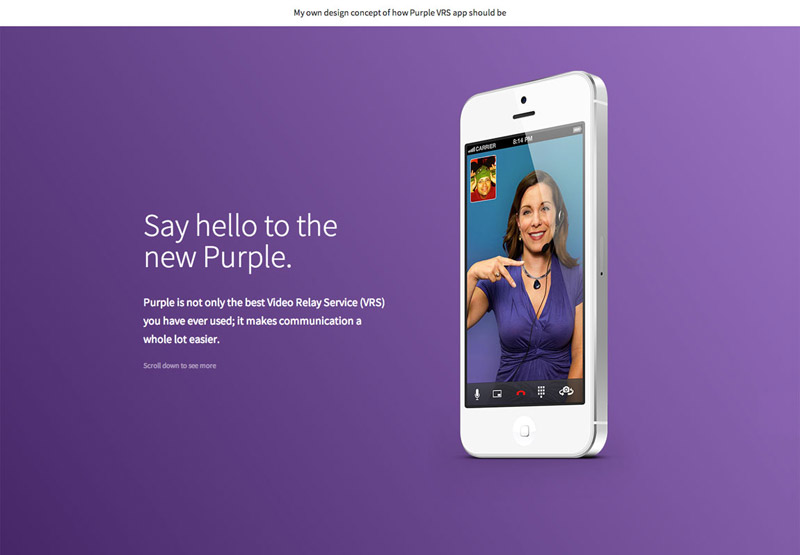 Great example of how you can pitch your concept. Big images, lots of breathing room and lovely responsive adaption. Great job!
My own design concept of how Purple VRS app should be. If you're curious what VRS means. Here's the short meaning: A Video relay service (VRS), also sometimes known as a video interpreting service (VIS), is a videotelecommunication service that allows deaf, hard-of-hearing and speech-impaired (D-HOH-SI) individuals to communicate over video telephones and similar technologies with hearing people in real-time, via a sign language interpreter. Thank you!