East Java Documentation
Below is the documentation including frequently asked questions, recommendations, credits and the changelog.
Quick Links
---
Setup Steps
Setting up East Java is a breeze and should take no longer than 5 minutes.
Step 1: Install Theme
Dashboard > Appearance > Themes > Upload Tab
Upload your theme to the theme section of WordPress – more info here on installing themes.
Click activate once uploaded
Step 2: Theme Options
Dashboard > Appearance > Options
Go through the simple theme options and hit 'Update Options' at the bottom.
Step 3: Custom Menus
Dashboard > Appearance > Menus
1. Enter in any name for your new menu (these will go in the sidebar widgets) and click the 'Create Menu' button to the right
2. On the left, create a custom link, then click 'Add to Menu' button, the link is now added to the menu
3. Repeat step 2 for as many links as you want
4. Click the 'Save Menu' button to the right
5. To create a second menu, simply click the + tab to the right of the current theme name at the top of the page
6. Repeat steps 1-4 to create another menu
Step 4: Set Widgets
Dashboard > Appearance > Widgets
Firstly remove all widgets currently in sidebar by dragging them out the sidebar, ie. drag to the left
1. Drag in the 'Custom Menu' widget to the sidebar ie. drag to the right
2. Enter in Title for the menu
3. Select the correct custom menu that you just created in Step 3 above "Custom Menus"
4. Hit Save
5. Repeat steps 1-4 for a second menu for the sidebar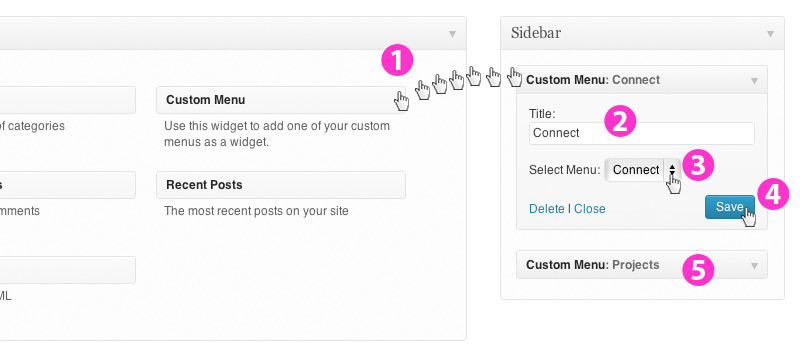 Step 5: Theme Customizer
Dashboard > Appearance > Customize
Change all the colors to match you branding.
Step 6: Enjoy
Hope you enjoy your new theme, drop us a mail if you have any questions: support@onepagelove.com and don't forget to include your purchase code.
---
Frequently Asked Questions
How will I know when new versions and updates are available?
All One Page Love WordPress themes have automatic update notifications built in the theme. So when a version update is ready, you get notified via your WordPress dashboard and the update is just one click away. Neat!
How do I install my Google Analytics tracking code?
WordPress now discourages us theme authors to have an option to paste in stats code. Simply install this very lightweight plugin called Google Analytics and in their settings (Admin > Settings > Google Analytics) paste in your web property ID from Google Analytics (eg. UA-0000000-0). The tracking code will now be in all pages and when you make future theme upgrades, your stats code will not be overwritten.
How I make custom CSS edits?
For custom CSS edits, use this neat plugin called Simple Custom CSS. This plugin stores CSS edit info outside of the theme folder, so upgrading your theme does not overwrite the relevant CSS code.
Does this WordPress theme have posts or pages?
Nope, this theme is purely a one pager aimed at providing a professional online presence for you or your brand. The sidebar is widget ready so you can add tons of information (about, bio, links) there if needed – but like we always say… less is definitely more:)
I can't code at all, how much can I change on the theme?
The theme utilizes WordPress's new Theme Customizer option (see screenshot). You can change all imagery in the theme options and text/colors using the theme customizer.
I have purchased the theme, how do I get support?
Simply email us on support@onepagelove.com and don't forget to include your purchase code.
---
Recommendations
Take time in optimizing your big background image. Make sure the file size is reasonable to download on all connections. Try crop the background image so it accommodates the centered text.
Match the center content background color to the most dominant color of the big background image, this will creates a softer load of the big image and a nice touch.
---
Credits
---
Changelog
When new updates are ready you get a notification in your WordPress dashboard and the update is one click away.
2014-05-01 / v1.1.11
IE11 menu bug fix, previously was not clickable due to negative z-index issue.
Added more styles to Page Template, demo here
2014-04-27 / v1.1.10
Moved "Display Options" from the Theme Options to the Theme Customizer for easier usability. Please note: you will need to set these again – which will be super quick. Apologies for the inconvenience.
Added list and blockquote styles to the Page Template
Fixed scroll bug on Page Template
2014-04-21 / v1.1.8
Important upgrade notice: The 'sidebar' now reuses the 'body' background-color in the Theme Customizer settings so you will need to set your sidebar background color again to the color of your choice.
Integration of 'Pushy' off-canvas navigation menu by Christopher Yee (http://christopheryee.ca/pushy/) utilizing jQuery + Modernizr. This was due to several cross browser issues with the CSS3 we had in place. The main template containers are now recoded.
Android (v4.4+) device improvement
Once open, the sidebar now closes when clicking anywhere on the main content area.
Once open, the sidebar now closes when clicking on any link in the sidebar.
Added an optional menu label to the right of the hamburger icon (☰) after an interesting read on mobile navigations (http://exisweb.net/mobile-menu-icons) and this should improve the opening conversion.
Admin bar spacing issue fix when logged in.
Resized the sidebar to 250px wide on mobile view and removed the mobile navigation icon within the sidebar as the normal navigation icon is now always visible to the right.
Title tag improvement for better SEO on the optional pages.
The right aligned menu icon option is discontinued as 'Pushy' does not support it. If you had a right floating menu, it will now sit on the default left.
2014-04-04 / v1.1.7
Google Fonts on Windows + Chrome bug fix
Android Devices: menu icon temporary fix. Replaced SVG icon with a plain white icon on Android devices only. Android systems less than 4.4 do not support SVG filters so we need to put this fix in place.
2014-03-05 / v1.1.6
Corrected linkedin social icon URL
Removed hamburger menu icon ID and changed menu ID to class to make the theme fully HMTL valid
2014-02-18 / v1.1.5
Fixed Firefox responsive issue with logo image on all resolutions
2014-02-17 / v1.1.4
Added email icon to social media icons
Added support for responsive videos in center widget area, perfect for promo video for your app or product
Added simple 'page' template by numerous requests for eg. a terms and conditions page
Fixed Firefox logo responsive bug
Squashed horizontal scrollbar bug in FF + IE
2014-02-03 / v1.1.2
Fixed bug that was shifting the background image when opening the sidebar when logged in
Fixed vertical scroll bug on mobile
Added index on mediaqueries.css in styles folder
2014-01-31 / v1.1.1
2014-01-28 / v1.0.16