Carrd Review – Build simple One Page websites online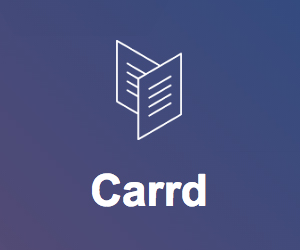 It's awesome to see the buzz around Carrd – the new website builder on the block.
What makes it different? Apart from being free, it's focused on creating simple clean One Page websites. Yup, a delicious niche.
So Carrd is lead by AJ who is well known for his generous collection of free HTML templates over at HTML5 UP (that recently clocked it's 8 millionth download).
AJ is a mad man when it comes to shipping. Since the launch of Carrd in March he has rolled out so many awesome updates to the platform and continues to do so almost daily.
Enough small talk, let's take a look at how we create a One Pager with Carrd.
---
How to create a simple One Pager with Carrd:
Estimated time to publish: 5 minutes
Step One: Choose a Starting Point
Once you've visited Carrd.co you don't even need to signup, just click the Get Started button and you are taken to a template dashboard where you choose your base layout. Simply select a template you like or select the Blank Template option at the bottom to start fresh:
There is a lot competitors can learn here. No yuk double opt-in emails. No Credit Card payments. Straight in. Less talk, more rock.
You are then presented with an infographic of useful instructions:
Take note but don't stress too much about them, these are easily accessible again from the menu hamburger icon.
Step Two: Start Editing
Yup, you're already in edit mode. The elements of course vary per template but the editing is all the same. Click an element and the option panel will slide out.
Here I've clicked the blank profile image element, then was prompted up upload an image in the slide-out panel:
Then I edited all the text by clicking on the "dummy" placeholder text and changed the options accordingly in the slide-out panel:
I changed the font family, color, size and weights. The editing experience is really smooth and all changes reflect in real-time.
Next up was social icons. It was super easy changing to the Solid icon style (from the default circle) and good to see tons of networks to choose from:
and lastly background image:
There are neat advanced options for color overlays, gradients and animations.
Step Three: Save and Publish
Now you simply hit the save icon top-right (where the green dot is) and you are presented with a final form to enter in your name, email, carrd.co username and some SEO info. When happy, hit the Publish button:
Step Four: Verify Email Address
Simply check your email and click the link sent from Carrd and your new One Page website is live! Here is the demo I just created:
How easy was that! Don't forget there are lots more templates to choose from and more options I haven't covered.
---
So what are the Carrd Free account restrictions?
There are two main restrictions to a free Carrd accounts:
(Subtle) Carrd accreditation under your social icons (as seen above)
Only option for a Carrd username and not a custom domain
---
Sounds pretty fair! What is Carrd Pro all about?
Carrd Pro accounts are ridiculously affordable at only $19/year (yes, annually) and includes the following:
Custom Domain Support – eg. hitdelete.com and not hitdelete.carrd.co
Multiple Sites – Up to 10 One Pagers per account
Contact Forms – Including MailChimp support
Widget Elements – Add any of the following third party widgets to your sites: Stripe Checkout Button, Gumroad Button, Facebook Like Button
Unbranded – Accreditation removed.
Favicons
Google Analytics integration – for tracking visitor stats
Larger images – up to 5MB
Best of all, you get to support AJ and Carrd to continue making radness online.
---
Hope you enjoyed the quick Carrd overview, I'll be working on a Carrd video review soon:)
Much love,
Rob

Twitter: @robhope
Email: [email protected]