Meet Andrew Reifman – the front-end developer behind Kickdrop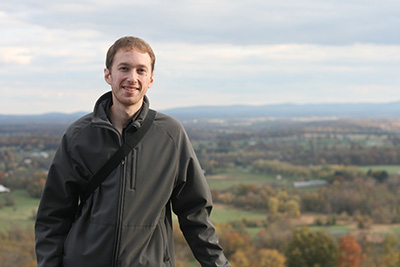 Kickdrop
is brand new a marketplace for quality designer resources.
Back in March they launched a colorful flat-designed launching soon page to create attention to their new startup and gather emails for the launch. The colorful One Page teaser filled all size screens well and the animations were just awesome including the impressive interactive 'drops' section.
I caught up with Andrew Reifman, the visual designer and front-end developer for the startup. This interview is from April 25th when the new site hadn't launched yet and is based on the teaser One Pager found online here.
Hi Andrew! To start can you please tell our readers where you are from and what you do for a living?
I'm a visual designer and front-end developer. I've worked with interactive agencies and software companies in the past. Most recently, I've been helping to design and build Kickdrop with two of my buddies.
Kickdrop is where designers and developers buy and sell premium resources. We used a bright and bold color palette along with animations to give the viewer a fun experience while learning about our upcoming product. Join the revolution for a better way to build the web!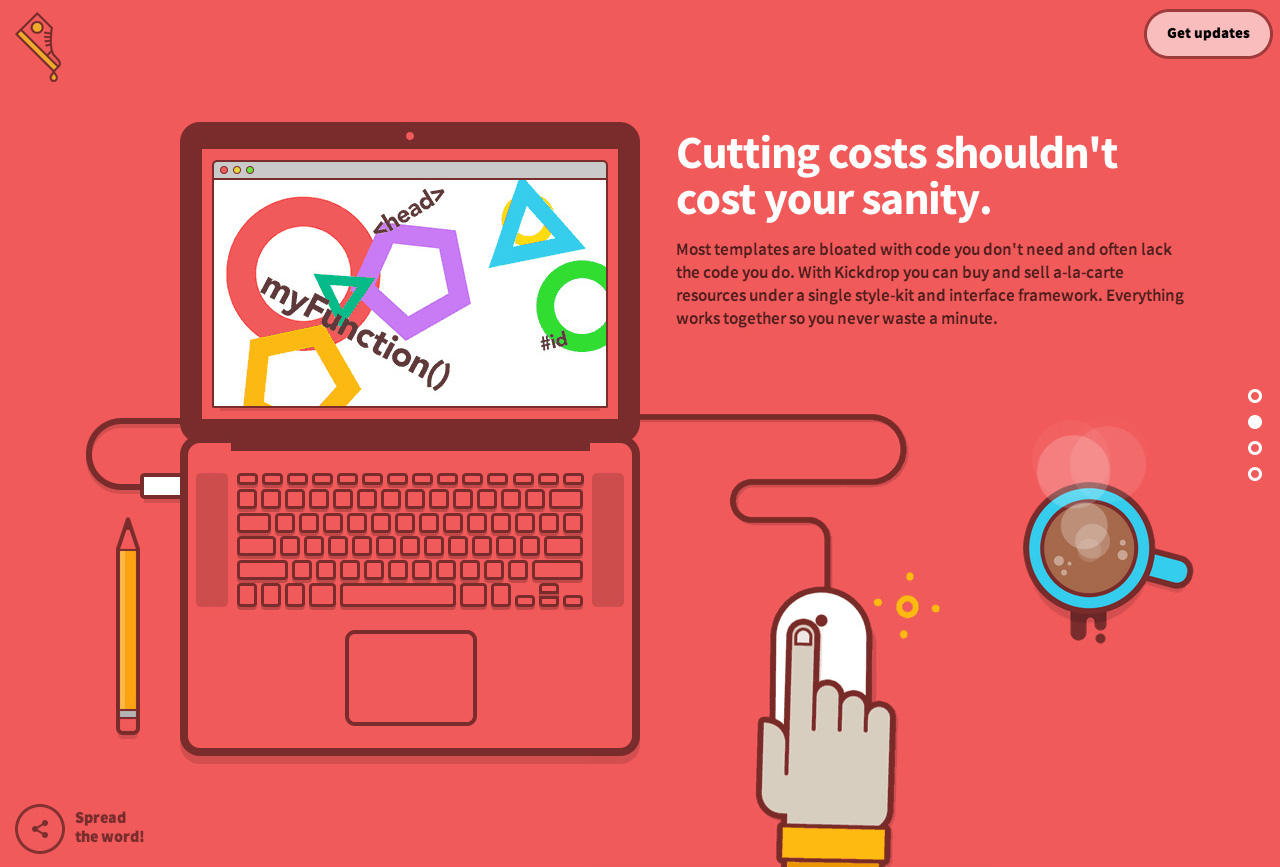 There is a such a vibrant flat-designed launching soon page for 'Kickdrop' – what was your role in the launching soon page and who else was involved?
Thanks! My role on the Kickdrop team is creative and front-end development. The one-pager was a joint effort with Bilal Mechairia and Don Pottinger, co-founders at Kickdrop. Bilal helped with the visual design and motion graphics. Don is our full-stack developer.
What exactly does Kickdrop aim to do and how far are you dudes in the roadmap?
In short, we want to make it quick and easy for the tech and design community to build absolutely stunning, one-of-a-kind digital products.
Design and code marketplaces traditionally have a bad rep for being out of touch, low quality and overall messy. Out of the box, open-source or free resources are great but can be difficult to integrate and are often incomplete. From our experiences, Kickdrop was born – a better system for creating interfaces with digital resources. We launched the coming soon page on March 18th, we've been working on the platform and initial drops (web components/design assets) since then. We hope to launch in the next couple of weeks.
The interactive Drops section has such a unique drag-and-drop feature, what type of code can achieve such a smooth effect?
The drag and drop functionality for the drops page was created with animate.css, jquery, and some custom scripting. We will be featuring animations like this on Kickdrop, so we are excited to share some of our secrets.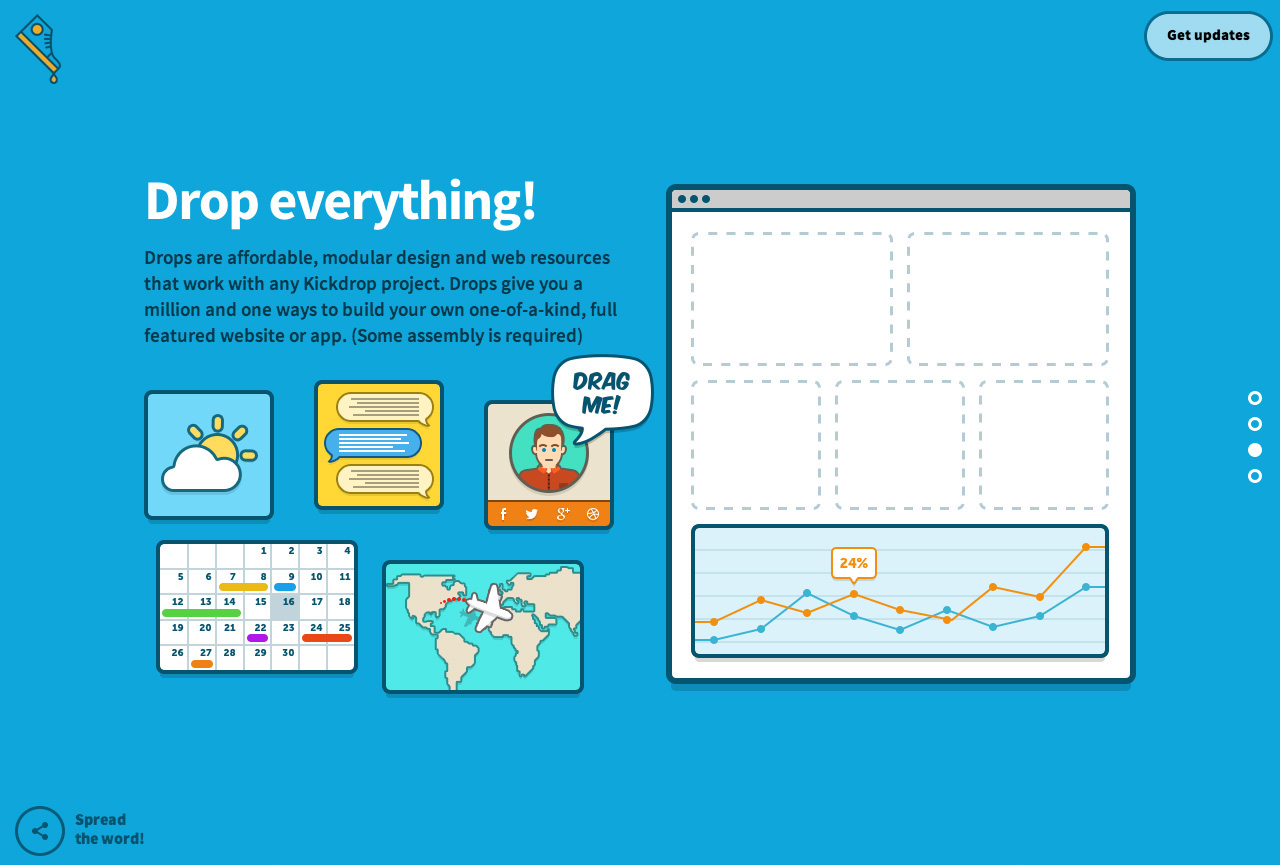 How has the response been since launching this awesome teaser page?
We are backpack founders, so no big advertising budgets here! Still, since it's debut a few weeks ago, we are happy to announce that we have over 800 sign-ups. We've answered dozens of inquiries from potential customers and already made a handful of changes to our product based on feedback. Oh, I can't forget to mention the support of great people like you who have been kind enough to mention or feature the site.
800, impressive! Thanks for chatting with us Andrew, Kickdrop looks really promising, where can our readers follow you online?
Thanks again for featuring the site! We are so excited for the launch! The best way to get the latest news and freebies from Kickdrop is to sign up at kickdropshop.com. You can also follow me on @andrewreifman.
---
Much love,
Rob

Twitter: @robhope
Email: [email protected]