Meet Asketic, creators of the beautiful Mailboxing game website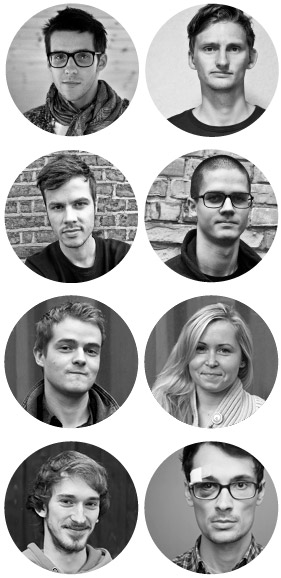 The
Mailboxing game website
is one of those sites you land on and you literally scroll down and up several times to take in the awesomeness.
Its busy yet bold and minimal. The color is just bursting out the screen and that double ipad/iphone slideshow is really the x-factor for me. I got chatting with Asketic team member, Austris Urtans…
Hi Austris! To start, can you please tell our readers where Asketic is based and what your role is?
Hi, Rob! Asketic, founded in 2007 in Riga, Latvia is a multi-disciplinary design firm. We have offices in Riga, San Francisco and London. We design innovative solutions for various clients and their needs. Our main competences are graphic design and interactive development.
My role in the company is to make things happen in time, find new solutions to market products and account clients. Asketic is gathered by a team of creative personalities with each one mastering a speciality.
Behind the Mailboxing project stands a brave and passioned coder – Evalds, Also amazing designers Miķelis and Aigars who pushes the status quo on the design problems and managing director Krišjānis who always masters quality, content of the product. There are many other personalities who makes the asketic brand fresh each day.
Can you give us an overview of your work environment and the setup you work with?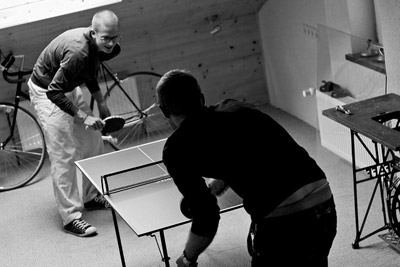 Our main office in Riga is set up in a attic apartment with a lot of roof windows and creative space. This place has it's creative energy and we love it. Our staff uses Mac computers as the main tool for creating artworks, code websites and applications or to write press releases.
The One Page site for the Mailboxing game app is awesome, I absolutely love the color and illustrations. How long did it take your team to build the site?
The web site was initially intended to be illustrative because the game it self is a comical style graphic game, but the main idea was to keep the focus on the "One Page site" as it is a promotional site and needs to be as juicy as we can make it. This spring we made a major update to the game and the web site had it's tune also, so now it is hard to track down how long time it took to create it, but it could be initially a few weeks work.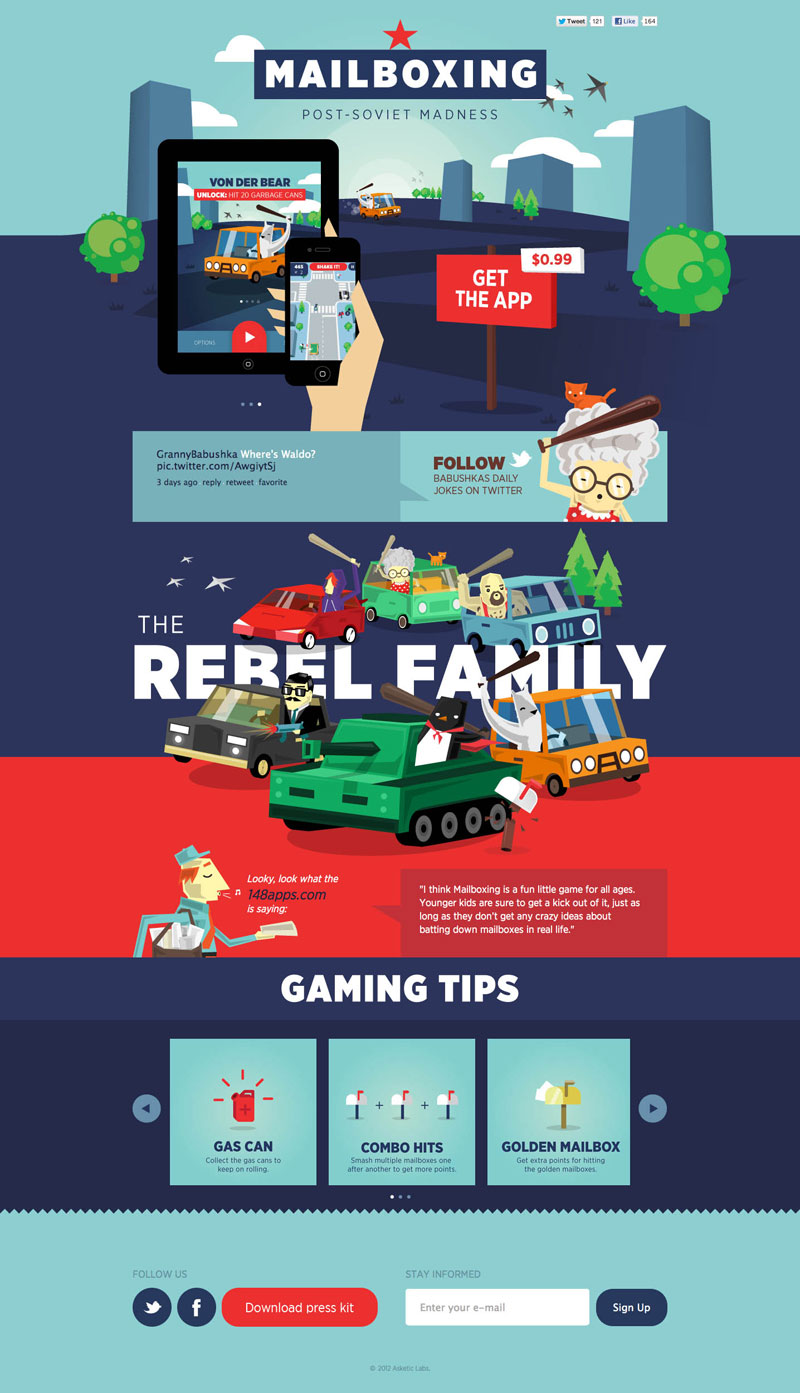 Any cross browser issues you dealt with?
Probably, but our coders nailed them. I suppose there was some issues with IE as these browsers always breaks some sweats.
Do you feel a rising trend in creating One Page websites for game apps?
I believe that this is the way to go and probably there will be new solutions in future. Right now website for an app is just an promotional tool for the most cases so there has to be a sort of a temper to these kinds of pages. For instance, the One Page informational architecture is a great way to deliver the information fast and convenient and to create the selling point. However trending leads to new trends so let's see were the technology will lead us.
Great point, is Asketic working on any new games?
Right now there are at least two apps in a development. We have a passion for creating new products so keep in touch for new amazing designs. But for a small sneak peek one of the new apps is related to food and eating.
Thanks for the insight on your work! Where can people follow your teams work in the future?
You can find us on Facebook and also follow our new products on our website.
Best regards from Riga Rob!
---
Such a positive tone in the interview, bet their work environment is awesome, shows through the quality of their work. Definitely a company to follow for inspiration.
Hope you guys enjoying the interviews, many more on the way:)
Much love,
Rob

Twitter: @robhope
Email: [email protected]