Meet Irish Multimedia Developer and Transition Junkie, Alder Cass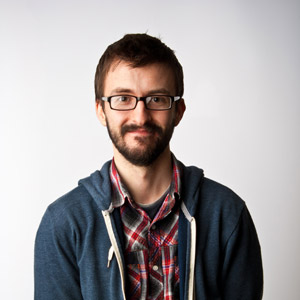 Alder's
portfolio site
recently slotted in our "
Most Loved
" category. It features loads of color, full screen slick transitions and lovely hover effects. I catch up with Alder where we rap about the build, his work setup and the death of Flash.
Hi Alder! To start, can you please tell our One Page addicts where you are based and what you do?
Hi there, I'm a Multimedia Developer from Cork, Ireland, working at Granite Digital in the Cork suburb of Little Island. My job is quite varied, involving both front-end and back-end (ColdFusion) development, design, and even a bit of animation and motion graphics development every now and then.
Can you give us an overview of your work environment and the setup you work with?
Granite is a very small (but quite powerful) web development and digital marketing agency with a vast client list from as far afield as San Francisco. I've only been working there since June, after graduating from the Cork Institute of Technology where I studied Multimedia, but I'm loving it. You know the cliché of "digital" companies being laid-back and carefree where everyone gets along and the boss acts like any other co-worker? That's us, and it's great. As far as my own setup is concerned, I work on a Lenovo PC, and I couldn't live without Photoshop, Illustrator and Notepad++.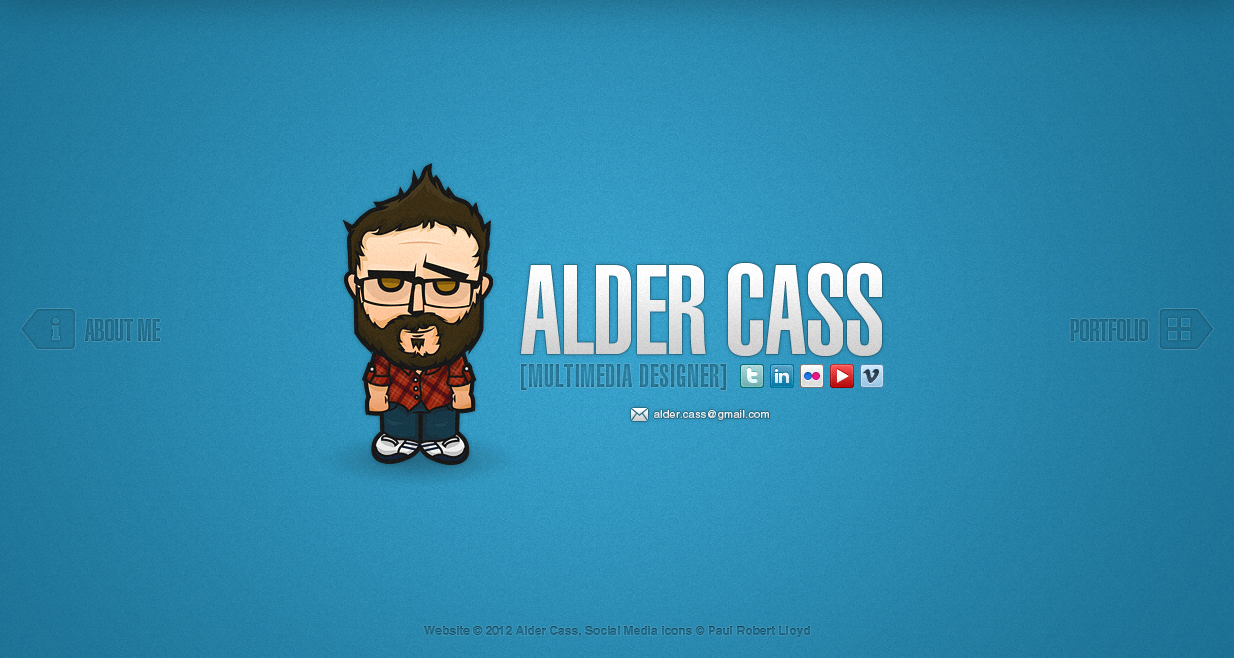 The transitions are so slick, especially the bounce on the full screen portfolio drop down slides. Back in the day this kind of site would have been dev'd in flash right. Do you think flash is finally on it's way out?
Absolutely it is. I genuinely can't think of anything Flash for web can do that HTML5/CSS3/JavaScript can't. Games? Nope. Animated page elements? CSS can even do that now. Streaming video and audio? HTML5 has that covered. Though of course being on the cutting edge can have its drawbacks, mostly in terms of browser support, but the world seems to be doing surprisingly well with staying on top of that, so going forward it's not so legitimate a concern any more.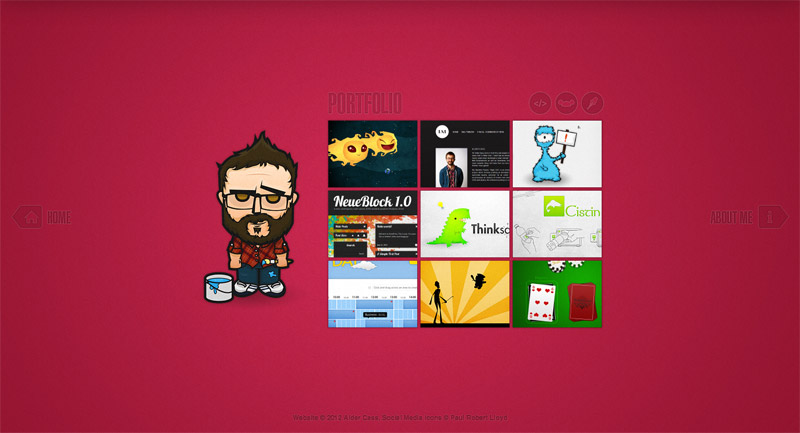 How long did it take to build and any cross browser issues?
It's hard to say how long it's taken, since it's been changing and evolving all along, also it being purely a personal project meant I didn't track my time. It began with the base design (the basic 3-slide structure with the character on each has always been there) which I worked on over 2 or 3 weeks as a break in between college assignments and as an opportunity to learn jQuery, then gradually every now and then I'd think "oooh I should add an X or a Y" and it grew from there, with things like the contact form and the preloader. Cross browser issues were surprisingly few, I've always been a perfectionist with HTML validation so that helped a lot with older browser support, and jQuery is great for cross browser support as well – the only thing the site really loses out on in IE7 and IE8 (we don't talk about IE6 any more) is very minor CSS3 decorations like shadows, rounded corners and animated transitions.
So why One Page?
For me, one main advantage of this kind of site being One Page is that it loads once and then after that, all of the site content is served instantly with no more waiting. Also the ability to have animated transitions between "pages" is great, I'm a total transition junkie.
The real x-factor for me is that right click social network bar. You think this one up? Would be a great little script to throw on Code Canyon for others…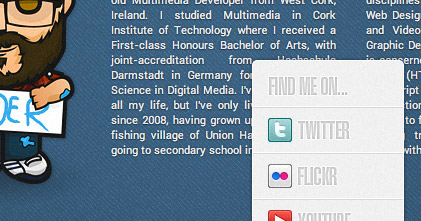 I did indeed! The context menu in my opinion has a lot of untapped potential, on a lot of websites the default functions of the context menu aren't gonna be used, so why not replace them with something different?
And you're absolutely right, that's a great idea. Sharing code isn't something I do often enough, I feel like I'm missing out on a huge community there…
Cheers for giving our readers some insight on your work! Where can people follow your teams work in the future?
No problem! Glad to share. My personal work (of which there's a bit of a dry spell right now) will continue to be put on AlderCass.com, whereas Granite is approaching a major rebrand and rennovation – the current website is a relic and is completely misrepresentative of what we do, so watch this space…
---
Hope you folks enjoyed the interview! Follow Alder on Twitter here.
Much love,
Rob

Twitter: @robhope
Email: [email protected]