How to create a free link in Bio Site in minutes [video]
A Bio Site is a beautiful, mobile-friendly one page website that links to everything you offer in one place: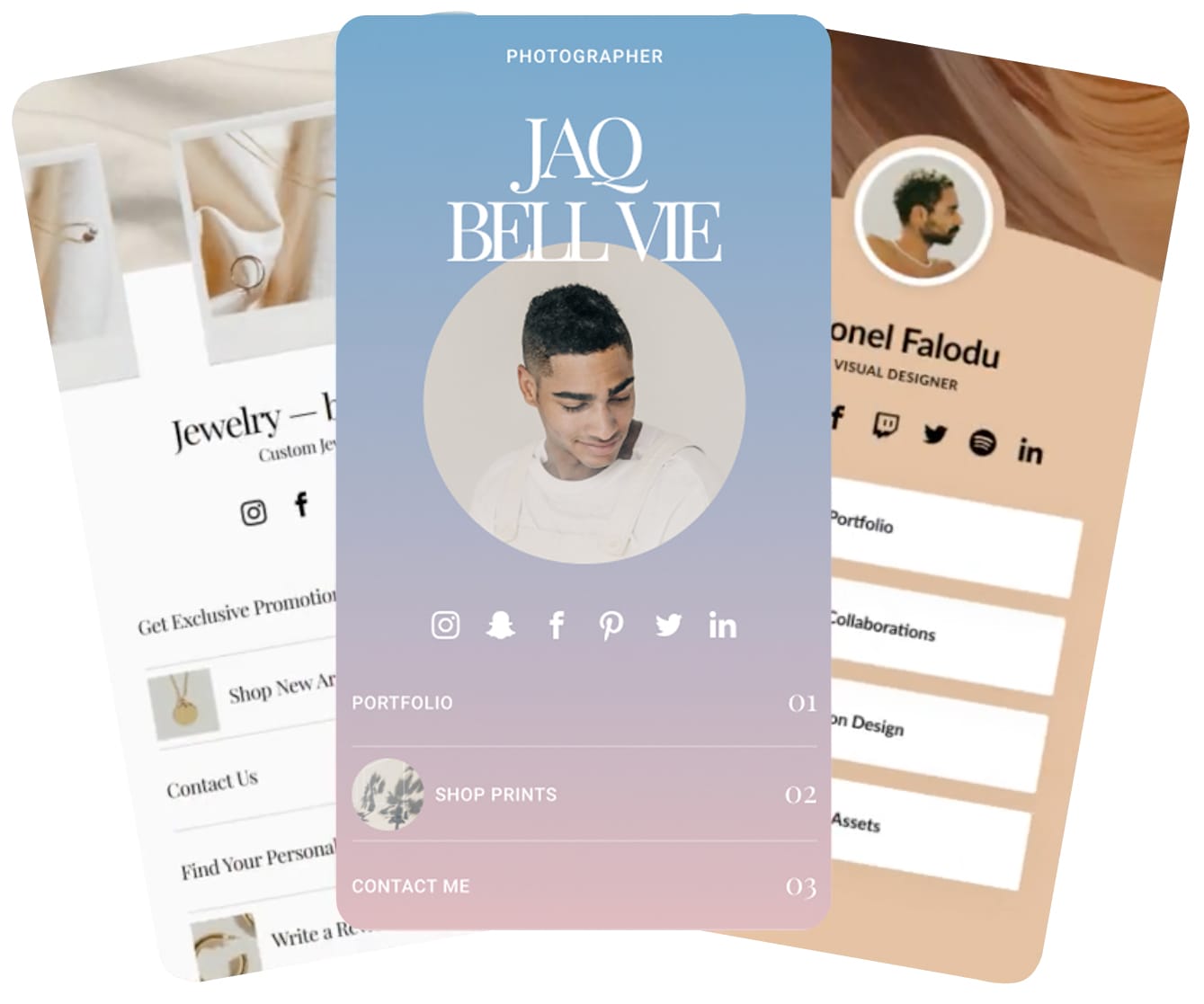 In this video tutorial I show you how to create a free link-in-bio website using the Bio Sites from Squarespace.
We start by installing the Unfold mobile app (visit App Store or Google Play), adding profile details, integrating links, customizing the design and even adding a tip section for donations. Make sure you stick around until the end for several Bio Sites FAQs. Let's get started!
ps. if you are on iOS we have an exclusive OPL30* coupon for 30% off Unfold Pro – learn more.
---
Tutorial Timestamps:
00:00 – Tutorial overview
00:30 – Installing free Unfold app
00:43 – Unfold app dashboard view
00:48 – Navigating to Bio Sites
00:58 – Bio Sites template designs
01:30 – Bio Sites navigation explained
01:51 – Adding profile images
02:20 – Adding profile name and tagline
02:33 – Social media icons
02:54 – Adding custom links
03:51 – Previewing Bio Sites
04:04 – Sections explained
04:20 – Adding a biography text box
04:42 – Style options explained
04:46 – Switching template designs
05:01 – Background color options
05:06 – Unfold Pro benefits
05:17 – Color picker customisation
05:46 – Publishing your Bio Site
06:02 – Bio Sites usernames
06:20 – Adding Bio Sites link to Instagram
06:42 – Adding Tips section
07:00 – Integrating with Stripe for tips
07:32 – Saving changes
07:40 – FAQ: How can I remove the Unfold logo?
08:00 – FAQ: Can I add more than Bio Sites?
08:14 – FAQ: Are there any statistics?
08:24 – FAQ: How does Bio Sites look on desktop?
---
FAQ: Can I remove the Unfold logo in the Bio Sites footer?
Yes. Simply upgrade to Unfold Pro using the top right button within the app. This also will unlock access to Unfold Brand Kits for quicker customization, unlimited profile sections and also allow for the creation of up to 10 Bio Sites on your account. See our exclusive Unfold Pro upgrade coupon below.
---
One Page Love Exclusive Unfold Coupon
OPL30
Yay! Squarespace is giving One Page Love iOS readers 30% off an Unfold Pro annual membership (including a 7-day free trial). Visit the coupon link to redeem. Download the Unfold app for iOS, click PRO in the top right corner to sign up or log in with your Squarespace account, and start creating!
*Coupon works if you're new to Unfold or don't have an existing Unfold membership plan. Coupon applies to your first payment of Unfold Pro annual, but not to future recurring payments, and may not be applied to previous purchases, subscription upgrades, or combined with any other offer.
---
FAQ: Can I add more than one Bio Sites?
Yes. When viewing your Bio Sites app area steer back using the top-left back arrow (←) icon. Now you can add new Bio Sites to the right. Please note you can only have 2 bio sites on a free account.
See video demonstration of adding more Bio Sites.
---
FAQ: Are there any visitor statistics?
Absolutely, when on your Bio Sites dashboard, steer on over to the Activity tab to see visits and click through rate.
See video demonstration of Activity view.
---
FAQ: How do I edit my existing Bio Sites?
When on your Bio Sites dashboard, click the 3 horizontal dots next to your Bio Sites URL. Then click the first edit icon in the prompted options: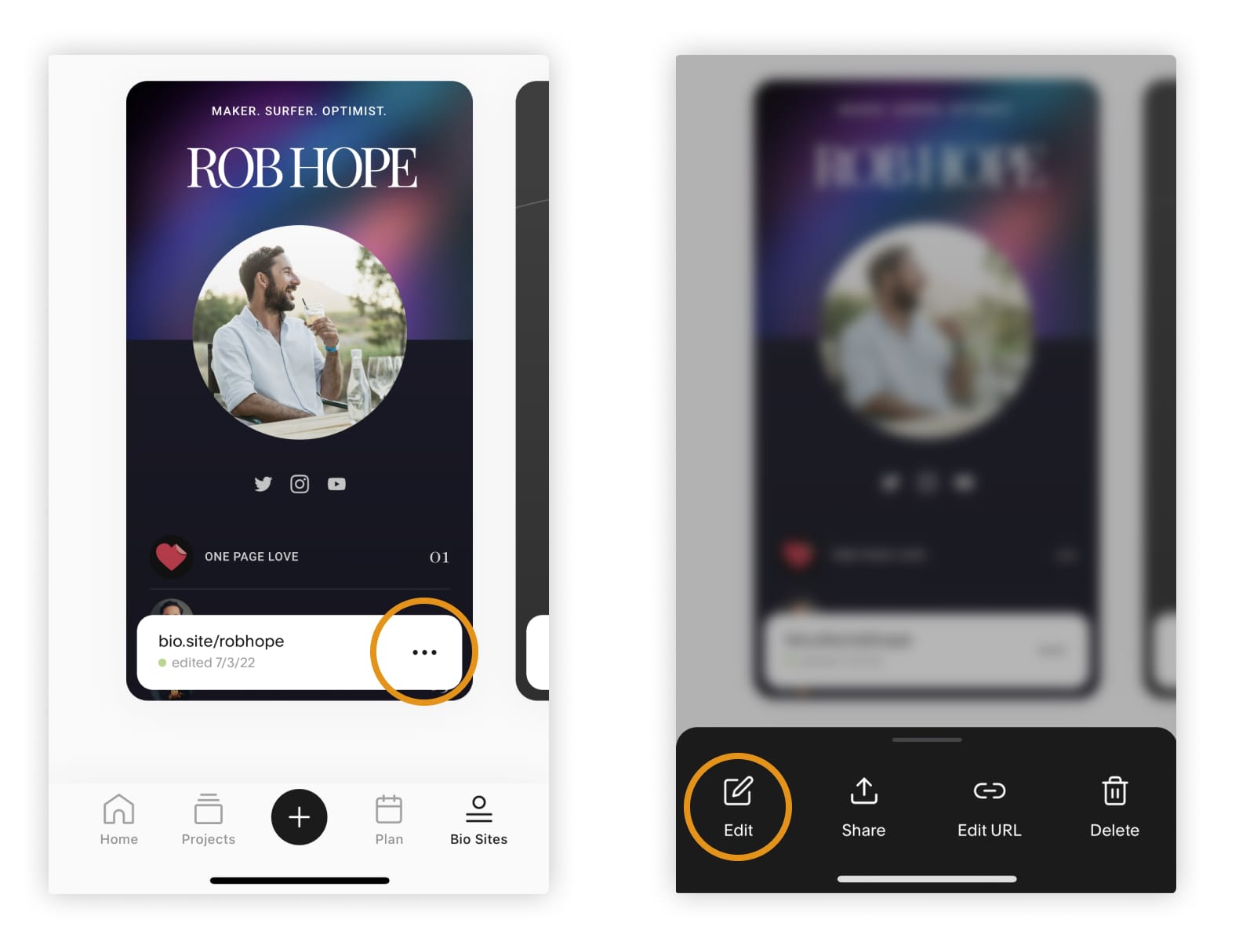 ---
FAQ: How does Bio Sites look on desktop?
Pretty good if you ask me!
That's a wrap!
OPL30
I hope you enjoyed this detailed setup tutorial of Bio Sites! Props to Squarespace and Unfold for building an app to create a One Pager, easily and for free! On a related note, I recently published how to create engaging social content for your products or services using Unfold.
* The OPL10 coupon offer only applies to first payment of subscription on Squarespace, does not apply to future recurring payments or monthly plans, and may not be combined with any other offer codes or discounts.
Much love,
Rob

Twitter: @robhope
Email: [email protected]