Top tools to help creators stand out and succeed in 2023
It's 2023 and with the passing of the holiday season you find yourself daydreaming about spinning your latest hobby into a creative business.
"Can I make my passion my full-time job?"
Or you are an established creator, looking to enhance your business with fresh sources of revenue and flair.
"Can I level up my online business this year, while staying true to my personal brand?"
Lucky for you, the all-in-one platform for creators, Squarespace, just answered yes for both.
Squarespace is a creator's resource powerhouse, offering you one hub to own your content, offer services, sell customized products, create exclusive member-only website areas, send beautiful promotional emails, write marketing blogs and enhance your social media marketing.
Yup, I've tried and tested every part of the Squarespace platform and it's the real deal.
In this article, I showcase the perfect creator business briefcase, filled with not one but six different avenues you could explore in 2023.
---
One Page Love Exclusive Coupon
OPL10
Yay! Squarespace has been kind enough to give One Page Love readers the exclusive coupon OPL10 for 10% Off* your first website or domain purchase. (There is a free 14-day trial with no credit card needed, so you can try risk-free.)
---
Tutorial Overview:
---
1. Create unique Landing Page designs aligned with fresh marketing ideas
Squarespace boasts a portfolio of varied templates, some perfect for a full website build and others for slick one pagers, all of which can align with your specific marketing purposes.
I pulled together the top 10 Squarespace templates to get started as a good place to give your idea the kickstart it needs.
Not sure how to build a website? Without any prior coding knowledge, we can now build websites all by ourselves. Fluid Engine – the new grid-based, drag-and-drop editor used for designing Squarespace pages – makes it incredibly easy to drag and snap any content (text, images, buttons) on a simple grid system:
This allows anyone to get the professional design results they're looking for, while looking like a bespoke website design.
Sounds good? Here is a great overview of Fluid Engine in action as well as this more comprehensive 30 minute video tutorial (also embedded below) on how to build a unique landing page design with Fluid Engine.
---
2. Promote marketing specials using engaging social media
Your idea is locked in and now you are ready to share it with the world. How do you set yourself apart from the masses? This is where the Squarespace Unfold App leads the way. I share how you can Create engaging social content for your products or services using Unfold.
Furthermore, social media's increasing demand for engaging portrait content (reels, stories and shorts) is what makes Unfold so useful. Unfold breathes life into your images, videos, and text, allowing you to create exciting, moving social content to market to your potential customers.
Unfold boasts a range of pre-designed templates you can utilize to boost your posts, stories and reels. Having chosen a template you can edit colors, text, upload your own media as well as add music. There is scope for every creative. Here is a preview of the app interface: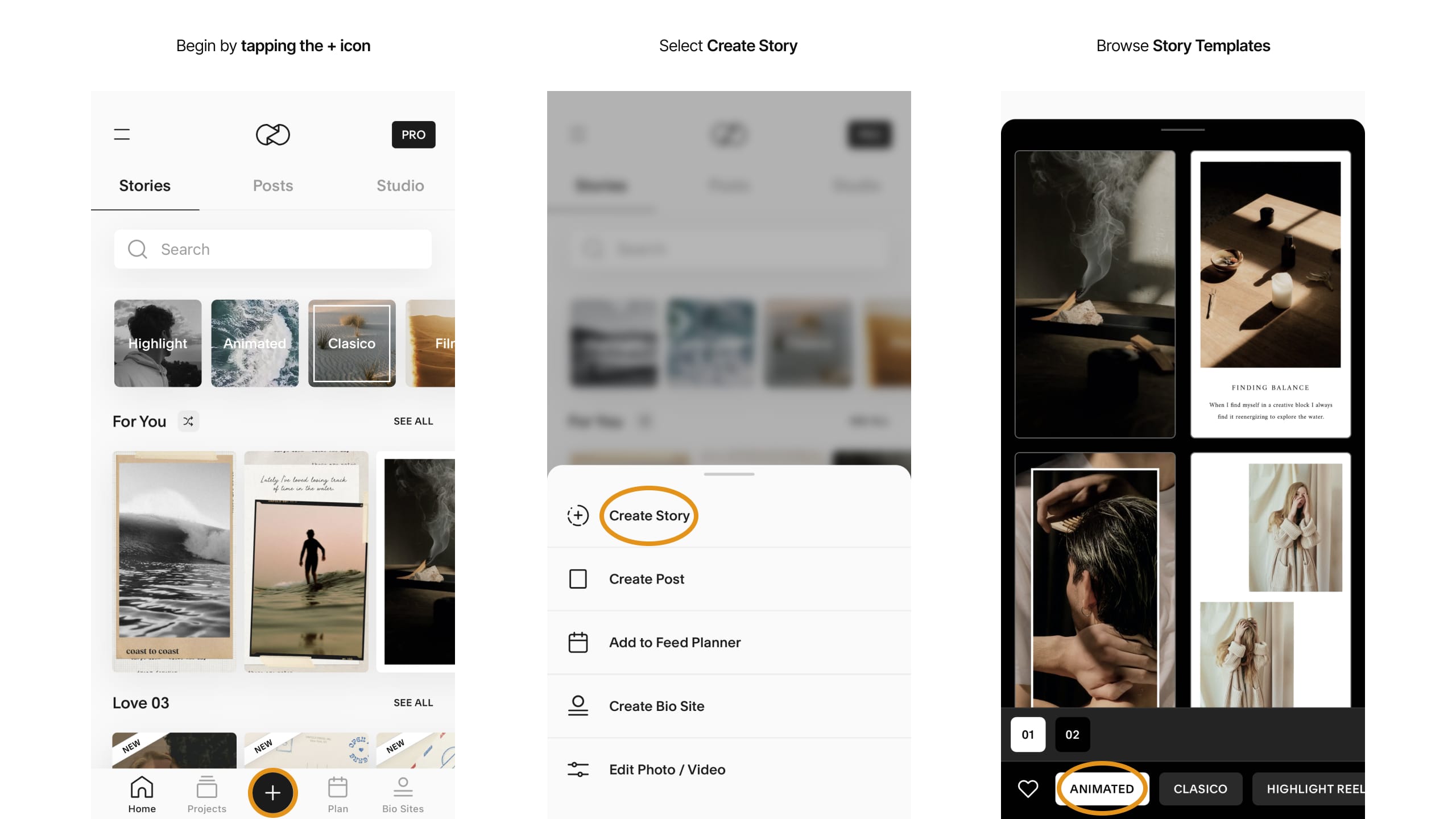 Unfold also features new trending Reels templates where you can add just your video clips and/or photos, and let Unfold do the rest.
Here is a quick movie-inspired video creation using the new 'Countdown' Reels template. Make sure your volume is turned up 🔊
Unfold is available free on the Apple App Store and Google Play Store. Your free account allows you to:
Create content with dozens of beautiful template collections
Edit content with filters and effects
Plan and preview content within your Instagram feed
Make a Bio Site for your new "link in bio" URL
Should you wish to add further features, check out Unfold+ and Unfold Pro.
---
3. Link to the product/service Landing Pages from Bio Sites
You're a creative, but managing so many different accounts for all the systems you need to streamline your business is endless. You have Squarespace and Unfold under your wing, but now what do you do if you need a link-in-bio site for your social media platforms or want a quick mobile landing page to showcase all your creative avenues?
Say hello to Unfold Bio.Sites. Unfold Bio Sites serves as a beautiful, mobile-friendly one page website that links to everything you offer in one place.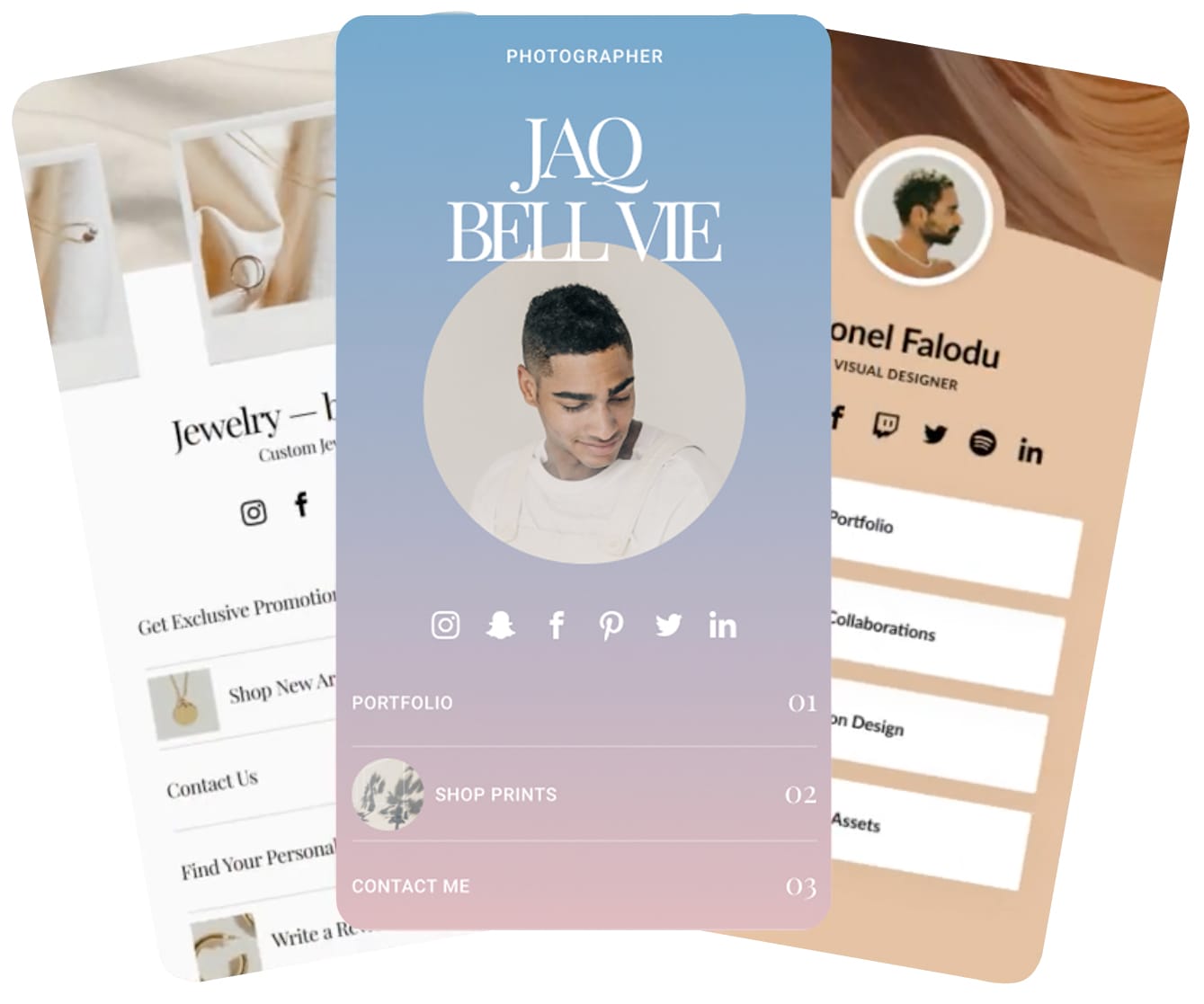 Choose a template, upload your brand logo, or portrait of yourself, and simply place links to your services/products and any social platforms.
Need some help setting it up? Watch my video tutorial (also embedded below) on How to create a free link in Bio Site in minutes.
---
4. Add a new layer of income with your own customized product line
In the past, designing, producing and distributing your own merchandise was a huge endeavor. But now thanks to the collaboration of Printful and Squarespace, it means a lot less workforce is needed to get merchandise into your customers hands. They make a powerful combo.
This could be the no fuss source of revenue you needed. You simply design your product, and allow Printful to do their thing, while you get the time to focus on other avenues for your business. It's this simple: Products are printed by Printful when an order is made, then they continue to package and ship the product directly to your customer. Want to know more? Check out my more detailed setup tutorial on: How to build a new income stream with your own customized product line.
---
5. Marketing to your audience using Email Marketing
Say goodbye to managing your email marketing on a separate platform. More logins, more passwords, more monthly expenses, more admin trying to get your site and lead generator to work together. Squarespace has further proven they are the all-in-one platform for creators, with a beautiful email marketing solution.
Squarespace Email Marketing Tools allows anyone to gather email addresses, promote a newsletter, send marketing emails and analyze the reader email activity – all using the same Squarespace platform.
Squarespace have a host of email templates (below), which can be linked to your product list, making it easy to import the products directly into your email.
In addition, Squarespace offers the ability to automatically send subscribers emails when they sign up or make a purchase. This saves you time and makes it easy to introduce your brand to new email subscribers or re-engage your existing customers.
The backend dashboard also offers you email analytics, in which you can review statistics for each of your emails sent to measure its performance:
Here is my tutorial on how to send your next campaign using Squarespace Email Marketing Tools, but if you are very new to email marketing, here is my beginner's guide to starting an email newsletter.
---
6. Create a member-exclusive area on your website with access to gated content
Still not convinced? As if the creator package couldn't get any better, gone are the alternative platforms for sharing exclusive content. Squarespace has a built-in membership service called Member Areas where you can offer your clients exclusive content within a private area of your website.
Member Areas acts as yet another layer of passive income you could draw from once you are set up and ready to roll it out. Getting paid for hours of hard work is a satisfying feeling.
Perhaps you're a chef wanting to offer cooking demonstrations on your latest recipes. Or, you're a watercolor artist, with a passion to share beginners lessons on how to paint. Maybe you're a pilates instructor looking to capitalize on reams of lessons you have created over the years or a life coach looking to share premium coaching tips in a subscription monthly newsletter.
Premium gated content will not only help you get paid for hours of hard work, but will also make your audience feel exclusive, strengthening your community.
Squarespace Member Areas provides any serious creatives the next level up with recurring revenue.
Want to get started? Read my article on how to add a layer of passive income to your website with Member Areas.
---
FAQ: What are the benefits of using Squarespace?
Squarespace is a leading online website builder. What sets them apart is their superior level of design and award-winning customer support team available 24/7. Other main benefits are:
No Website Hosting Needed - their platform is fast and secure.
Online Content Management - all edits are done within your browser, no software needed.
Easily Drag and Drop Images - unlimited galleries with unlimited bandwidth.
Free Domain Name - when registering for your first website, if you pay annually (renews at standard rate).
Beautifully Responsive - all templates work for all devices, so you only have to design your website once. Test and preview how your website will appear on a range of screen sizes.
Blog Sections - can easily be added for content marketing and to share your journey.
Commerce Solutions - are an upgrade away if you want to start selling products.
Email Marketing - gather email addresses, send marketing emails and analyze the reader email activity.
Member Areas - create private website sections only accessible to signed-up or paying members.
Scheduling - add an online scheduler to your site to diversify your revenue with professional services or classes.
---
That's a wrap! Don't forget your 10% Off coupon*: OPL10
That's a creator tools wrap! Don't forget your 10% Off coupon: OPL10
OPL10
I hope you enjoyed this guide on top tools to help creators stand out and succeed in 2023! Props to Squarespace for creating an all in one platform for creators where we can set up our business with ease.
* The OPL10 coupon offer only applies to first payment of subscription on Squarespace, does not apply to future recurring payments or monthly plans, and may not be combined with any other offer codes or discounts.
Much love,
Rob

Twitter: @robhope
Email: [email protected]