Get more exposure for your business using Squarespace Marketing Tools
Squarespace has become a robust All-In-One platform for small-to-medium sized businesses across the globe.
Their new Marketing Tools helps drive traffic to your website while measuring your success with powerful marketing and analytics tools.
In this tutorial I show you what 5 marketing tools are included in the Squarespace platform while highlighting my favorite features.
---
One Page Love Exclusive Coupon
OPL10
Yay! Squarespace has been kind enough to give One Page Love readers the exclusive coupon OPL10 for 10% Off* your first website or domain purchase. (There is a free 14-day trial with no credit card needed, so you can try risk-free.)
Please note: this article is based on the Squarespace 7.0 platform.
The new Squarespace 7.1 platform features an improved user interface, so the screenshots might differ but the majority of the content is still relevant. Squarespace 7.1 offers a much more flexible way to build websites, regardless of which template you start with. Squarespace 7.1 templates also support all features and style options including an unlimited number of page sections.
---
1. Squarespace Email Campaigns
Squarespace Email Marketing Tools allow anyone to gather email addresses within their website and then send marketing emails using the same Squarespace platform.
Noteworthy Email Marketing Tool highlights include:
Comprehensive click tracking and reporting
A range of customizable templates (previewed above) to start designing emails
Responsive layouts so emails look great on desktop or mobile
Import content from your website or blog straight into emails
Compose and edit emails from your mobile if needed
Import email addresses using CSV files
My favorite feature? How the click tracking is part of a bigger analytics platform. We can track a click from an email button all the way to the purchase page, meaning we can see how much our Email Marketing Campaigns are converting into sales.
---
2. Built-in SEO Tools
Search Engine Optimizing (SEO) is the process of optimizing your website for maximum online discovery, mainly through search engines. Squarespace understands the importance of SEO and has invested heavily in making this optimization process as seamless as possible.
Noteworthy SEO features include:
Mobile Optimization – Google recently updated their technology to give mobile-optimized sites a higher priority. Squarespace tested all their templates using Google's mobile-friendly testing tool and passed with flying colors.
Customization of Search Engine Visibility – The SEO control panel (previewed above) allows for easy editing of your website title and description. There are also options for page-specific SEO titles, descriptions and social sharing images:
Site Map – Squarespace automatically generates and links a proper sitemap.xml, which lists every URL and image metadata on your site with proper priority for perfect indexing.
Clean URLs – All pages and collection items on your site have static URLs that are easily indexed and read by search engines.
SSL Certificates – All Squarespace Domains and third-party domains include free SSL certificates when connected and pointing to Squarespace sites:
---
3. Social Media Tools
Squarespace has integrations with all major social media platforms so your customers can keep up-to-date with your latest moves right from your website.
Previewed here are connected social media accounts to the left and alongside is an example of a real-time Instagram feed within a website footer:
---
4. Promotions and Pop-Up Banners
Squarespace Marketing Tools also allow you to highlight important announcements like seasonal sales or holiday hours with smart banners and promotions.
In this example I've enabled a Promotional Pop-Up to present a mailing list sign up form when visits arrive at our website:
You simply go through the various settings, tweak the pop-up design accordingly and once you are happy – connect your form Action to your list from your Email Marketing Tools area.
---
5. Analytics
The Squarespace Analytics App helps you understand your audience with Squarespace's holistic view of your website analytics, including page views and sales: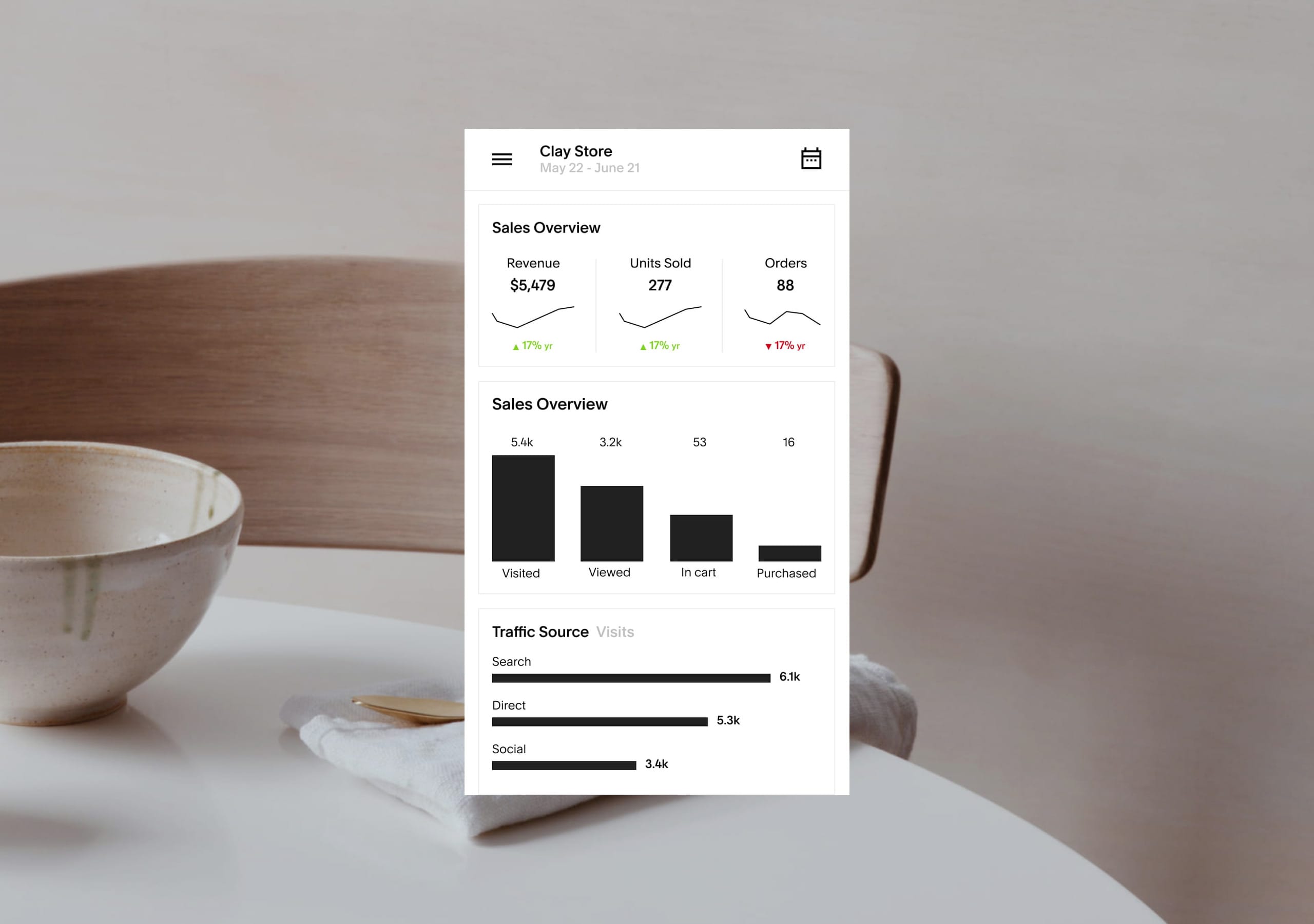 Noteworthy Analytics App features include:
Track sales and conversions
Monitor visitor numbers
Get alerts when traffic is spiking or dipping
Check trends over time
---
FAQ: What are the benefits of using Squarespace?
Squarespace is a leading online website builder. What sets them apart is their superior level of design and award-winning customer support team available 24/7. Other main benefits are:
No Website Hosting Needed - their platform is fast and secure.
Online Content Management - all edits are done within your browser, no software needed.
Easily Drag and Drop Images - unlimited galleries with unlimited bandwidth.
Free Domain Name - when registering for your first website, if you pay annually (renews at standard rate).
Beautifully Responsive - all templates work for all devices, so you only have to design your website once. Test and preview how your website will appear on a range of screen sizes.
Blog Sections - can easily be added for content marketing and to share your journey.
Commerce Solutions - are an upgrade away if you want to start selling products.
Email Marketing - gather email addresses, send marketing emails and analyze the reader email activity.
Member Areas - create private website sections only accessible to signed-up or paying members.
Scheduling - add an online scheduler to your site to diversify your revenue with professional services or classes.
---
That's a wrap! Don't forget your 10% Off coupon*: OPL10
That's a wrap! Don't forget your 10% Off coupon: OPL10
OPL10
I hope you enjoyed this tutorial on how to get more exposure for your business using Squarespace Marketing Tools. Props to Squarespace for creating a platform where we can create beautiful Landing Pages, easily. If you missed it I also wrote a tutorial on how to create a Newsletter Landing Page using Squarespace and start building your list.
* The OPL10 coupon offer only applies to first payment of subscription on Squarespace, does not apply to future recurring payments or monthly plans, and may not be combined with any other offer codes or discounts.
Much love,
Rob

Twitter: @robhope
Email: [email protected]