How to sell your time online from your home office
Consulting is the practice of sharing your expertise to a third party, in exchange for a fee.
Along with recent quality improvements in the video calling space, online consulting is an amazing opportunity, all possible from within your home.
In this article I'm going to breakdown the benefits of using Squarespace (my favorite website builder and Commerce platform) to start selling your time online. Let's begin!
---
One Page Love Exclusive Coupon
OPL10
Yay! Squarespace has been kind enough to give One Page Love readers the exclusive coupon OPL10 for 10% Off* your first website or domain purchase. (There is a free 14-day trial with no credit card needed, so you can try risk-free.)
---
Consulting Feature Breakdown
---
FAQ: But wait, how much does it cost?
Before we get going on the features, let's breakdown exactly what Squarespace plans you will need to fully operate a consulting business:
Any Squarespace Business Plan starting at $23/month – Remember this includes all hosting, security, speed optimization, fully integrated Ecommerce functionality and 24/7 customer support. Serious value.
An additional Squarespace Scheduling Plan starting at $14/month – This includes calendar syncing, custom payment settings, card vaulting and automatic reminder emails.
So only $37/month to run your entire consulting business with Squarespace. Depending on your industry, this is potentially just one online appointment per month, to fund a full month of consulting operations.
Ok, let's step back into the consulting features.
---
1 – Full control over calendar gaps
When starting off your consulting business, it is a smart play to appear busy, increasing the booking demand for your visitor. Squarespace Scheduling allows you to reduce the amount of available time slots to make your calendar look busy.
Blocking out your calendar is also useful for personal meetings and for when you need to grey-out full days for family holidays: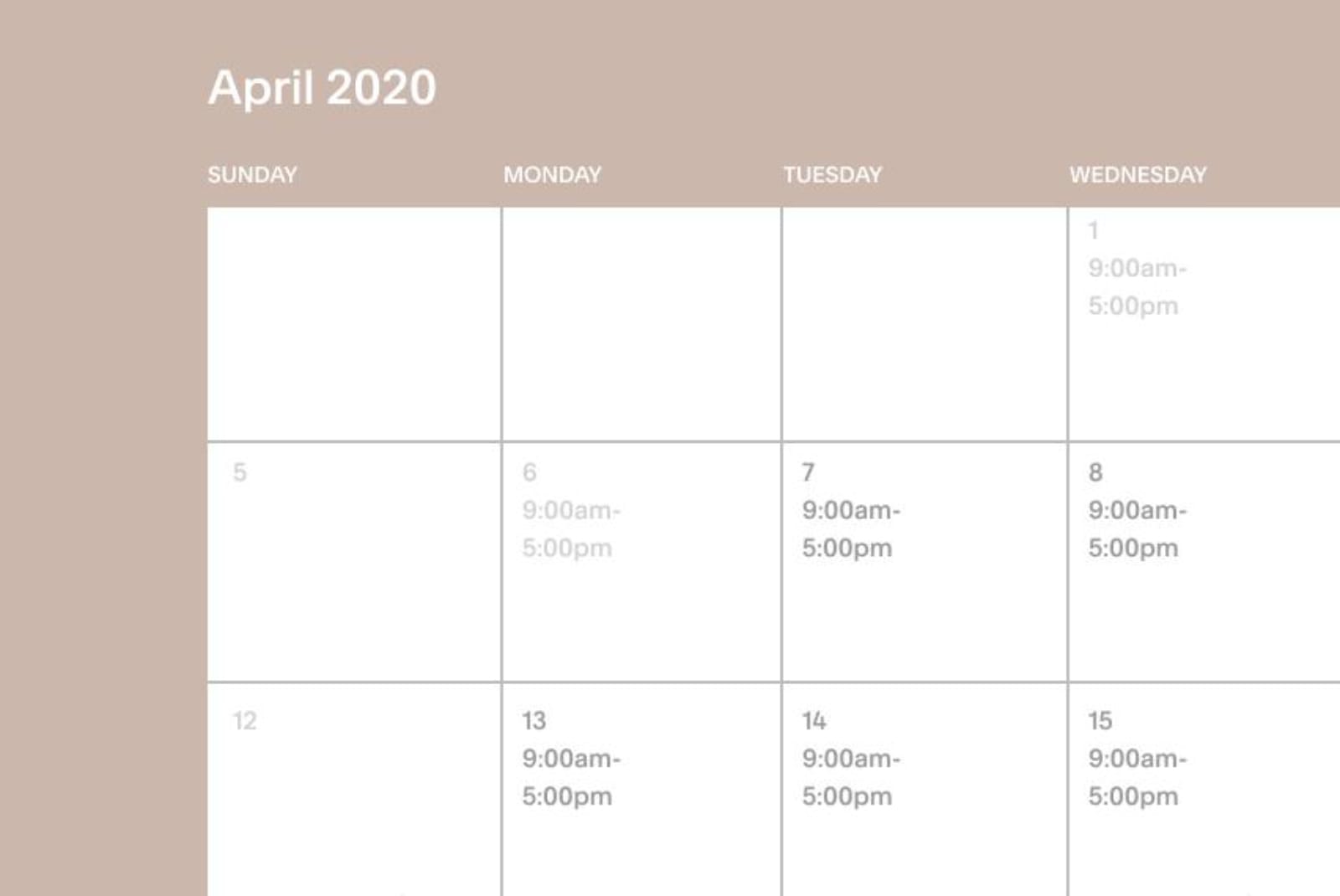 The scheduling settings can control:
How far in advance clients can book appointments on your scheduling page
If clients can reschedule or cancel their own appointments
How close to a booked appointment clients can reschedule or cancel
The time slots offered on your scheduling page
If clients can edit intake forms after scheduling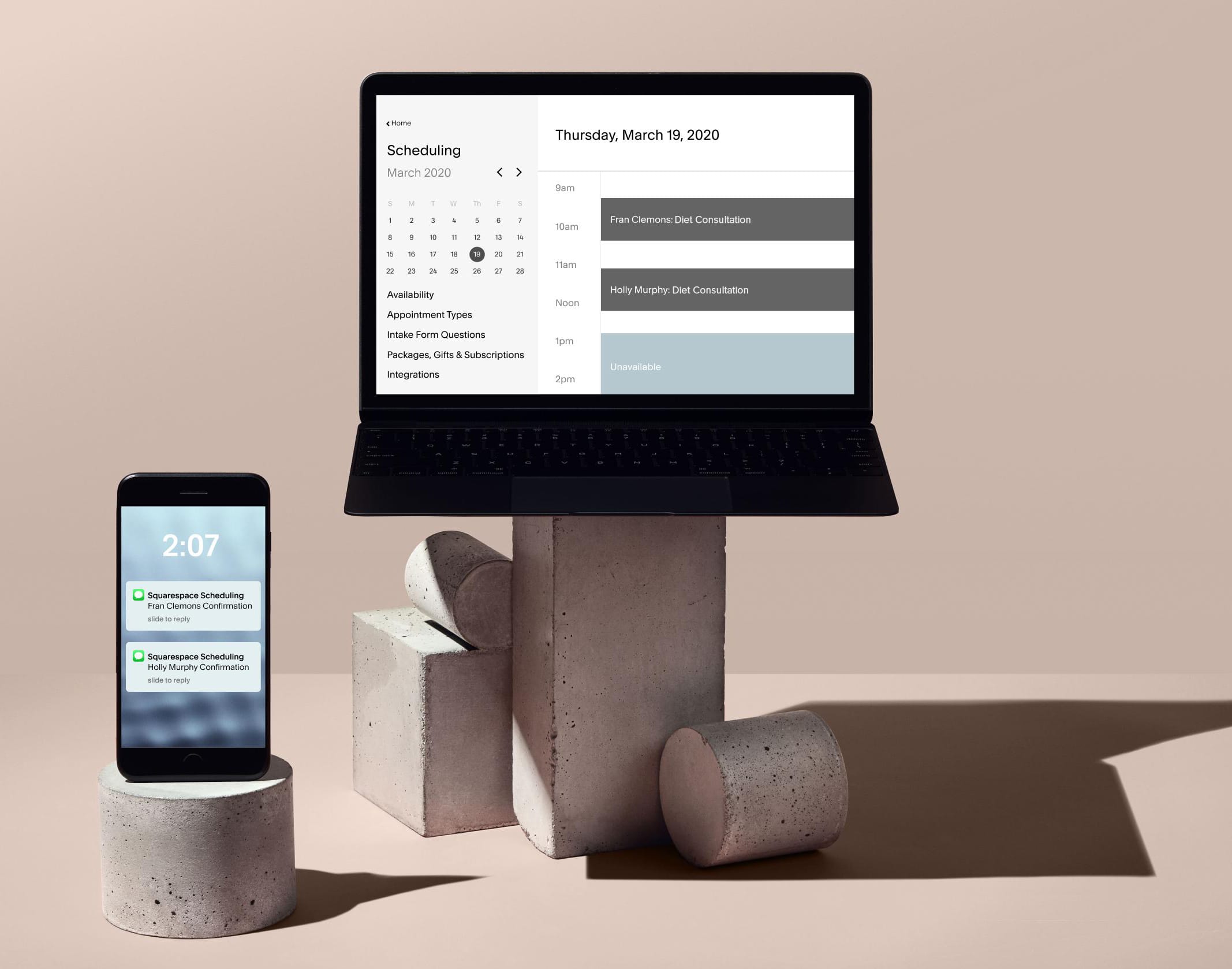 Learn how to limit your calendar availability.
---
2 – Calendar syncing
With Squarespace Scheduling you can sync your scheduling appointments with your personal or business calendar to keep track of your schedule in one place.
Scheduling can sync with these calendar programs:
Google
iCloud
Outlook Office 365
Outlook Exchange
Outlook.com
Learn how to sync appointments with third-party calendars.
---
3 – Offer discounted packages and subscriptions
On-boarding new clients via a free first consultation can be a smart approach to growing your consultancy business. If you are feeling a long term relationship with your client, Squarespace Scheduling allow you to offer bulk packages at a discount (eg. buy 4, get 1 free) or even a monthly subscription. Both excellent pricing strategies to increase revenue for your consulting business.
Learn more about scheduling packages and subscriptions.
Please note: Gift vouchers, discounted packages and subscription are only available on the Scheduling Growing and Powerhouse plans starting at $25/month.
---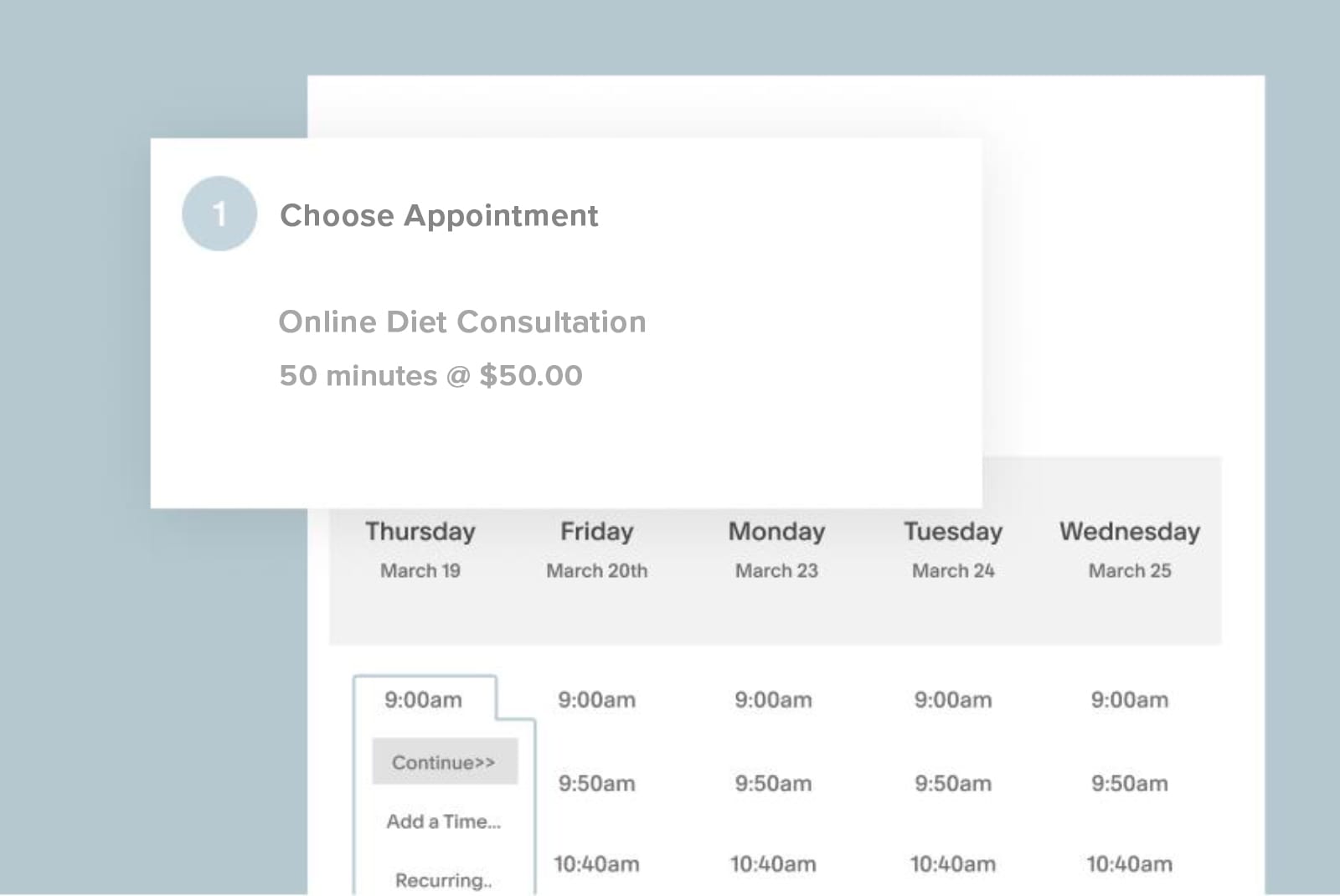 ---
4 – Customize sign up forms
Having prospective clients fill out a detailed questionnaire is a great method to ensure you are well prepared for the initial consultation.
Not only will it prevent unnecessary time taken in the meeting but it will impress your client when your expert advice is tailored to them.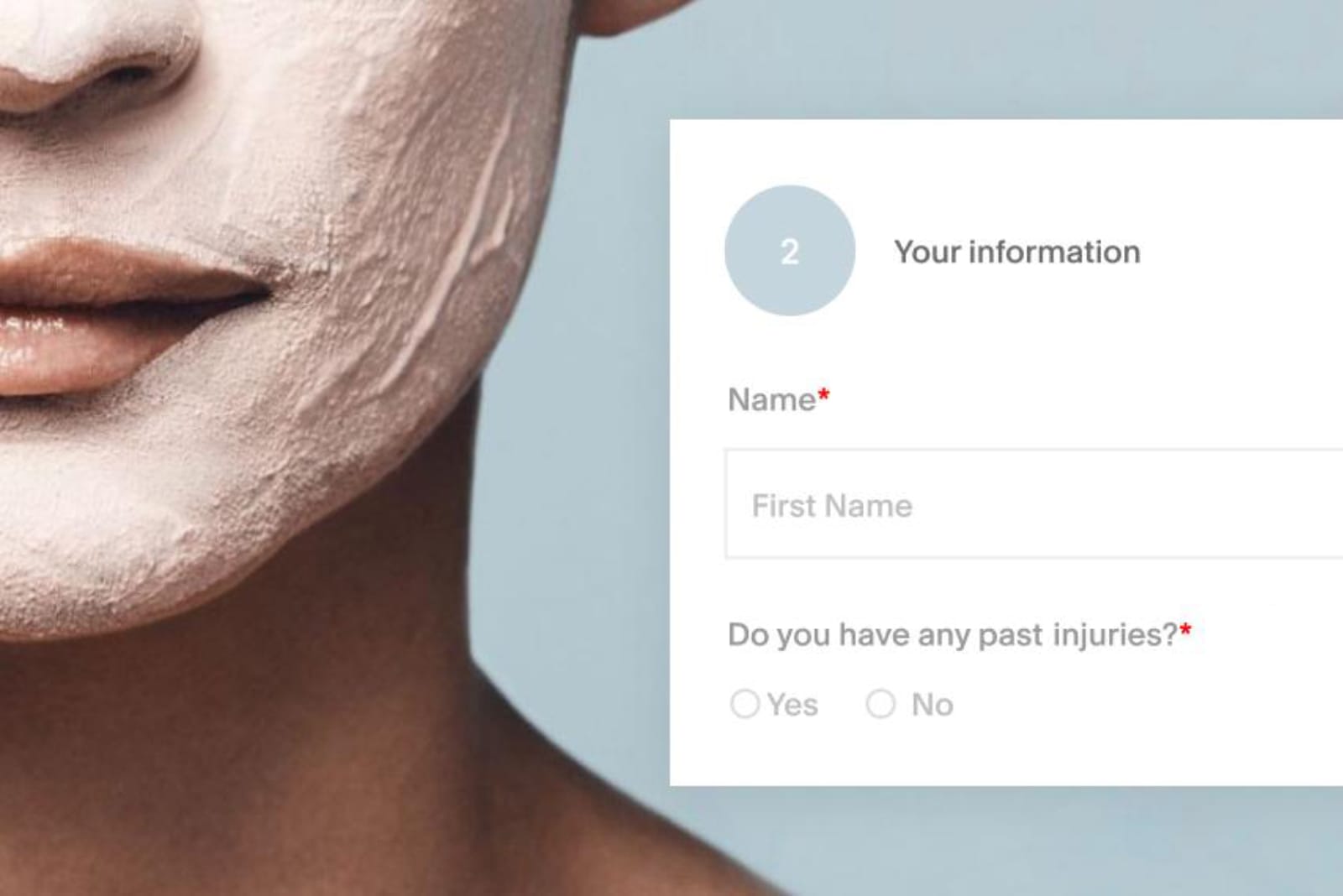 Learn more about client intake forms and agreements.
---
5 – Automated messaging
With Squarespace Scheduling, you can send automated emails to clients about their appointments, packages and subscriptions. Up to 3 email reminders can be sent to your clients, all customizable, example:
24hrs before
48hrs before
7 days before
There is even a very useful option for follow-up messages. You can send emails after appointments to thank them, ask for feedback, or offer discounts for future appointments.
And on the Scheduling Growing and Powerhouse Plans you can even send clients one automated text message reminder per appointment.
Learn more about automated messaging.
---
FAQ: What are the benefits of using Squarespace?
Squarespace is a leading online website builder. What sets them apart is their superior level of design and award-winning customer support team available 24/7. Other main benefits are:
No Website Hosting Needed - their platform is fast and secure.
Online Content Management - all edits are done within your browser, no software needed.
Easily Drag and Drop Images - unlimited galleries with unlimited bandwidth.
Free Domain Name - when registering for your first website, if you pay annually (renews at standard rate).
Beautifully Responsive - all templates work for all devices, so you only have to design your website once. Test and preview how your website will appear on a range of screen sizes.
Blog Sections - can easily be added for content marketing and to share your journey.
Commerce Solutions - are an upgrade away if you want to start selling products.
Email Marketing - gather email addresses, send marketing emails and analyze the reader email activity.
Member Areas - create private website sections only accessible to signed-up or paying members.
Scheduling - add an online scheduler to your site to diversify your revenue with professional services or classes.
---
That's a wrap! Don't forget your 10% Off coupon*: OPL10
That's a wrap! Don't forget your 10% Off coupon: OPL10
OPL10
I hope you enjoyed this breakdown of the powerful features of Squarespace Scheduling. Props to Squarespace for creating a platform where we can create beautiful Ecommerce websites, easily. In case you missed it, I recently wrote a tutorial how to build a long-scrolling Landing Page from scratch using Squarespace.
* The OPL10 coupon offer only applies to first payment of subscription on Squarespace, does not apply to future recurring payments or monthly plans, and may not be combined with any other offer codes or discounts.
Much love,
Rob

Twitter: @robhope
Email: [email protected]