When we're hard at work in the final stages of our new product or service launch, we overlook how effective a well-planned marketing campaign can be.
Word-of-mouth after launching is still worth it's weight in gold and can be achieved with a beautiful pre-launch teaser followed by the reveal of a quality product or service.
In this tutorial I'm going to show you how to tease your upcoming product or service with a beautiful Squarespace Launching Soon page. This website will also gather email addresses for the final launch announcement sent using Squarespace Email Marketing Tools.
---
One Page Love Exclusive Coupon
OPL10
Yay! Squarespace has been kind enough to give One Page Love readers the exclusive coupon OPL10 for 10% Off* your first website or domain purchase. (There is a free 14-day trial with no credit card needed, so you can try risk-free.)
Please note: this article is based on the Squarespace 7.0 platform.
The new Squarespace 7.1 platform features an improved user interface, so the screenshots might differ but the majority of the content is still relevant. Squarespace 7.1 offers a much more flexible way to build websites, regardless of which template you start with. Squarespace 7.1 templates also support all features and style options including an unlimited number of page sections.
---
FAQ: What are Squarespace Email Marketing Tools?
Squarespace has become an All-In-One platform for small businesses. Their newest feature allows anyone to gather email addresses within their website and then send marketing emails using the same Squarespace platform. Right now existing Squarespace customers can use Email Campaigns at no cost for a limited time during an invite-only early access period. General availability at a low monthly rate is coming soon but noteworthy highlights include:
A range of customizable templates to start designing emails
Import content from your website or blog straight into emails
Responsive layouts so emails look great on desktop or mobile
Compose and edit emails from your mobile if needed
Import email addresses using CSV files
Comprehensive click tracking and reporting
My favorite feature is definitely how the click tracking is part of a bigger analytics platform. We can track a click from an email button all the way to the purchase page, meaning we can see how much our Email Marketing Campaigns are converting into sales.
---
Tutorial: How to build a Launching Soon page with Squarespace
In this quick tutorial we are going to setup a Squarespace Cover Page to tease our product while encouraging a Newsletter Signup for the launch announcement:
Step One: Open up the Squarespace editor (if this is a new website setup, simply choose any template to begin).
Step Two: In the Main Navigation, click Pages, then click the + icon and select Cover Page: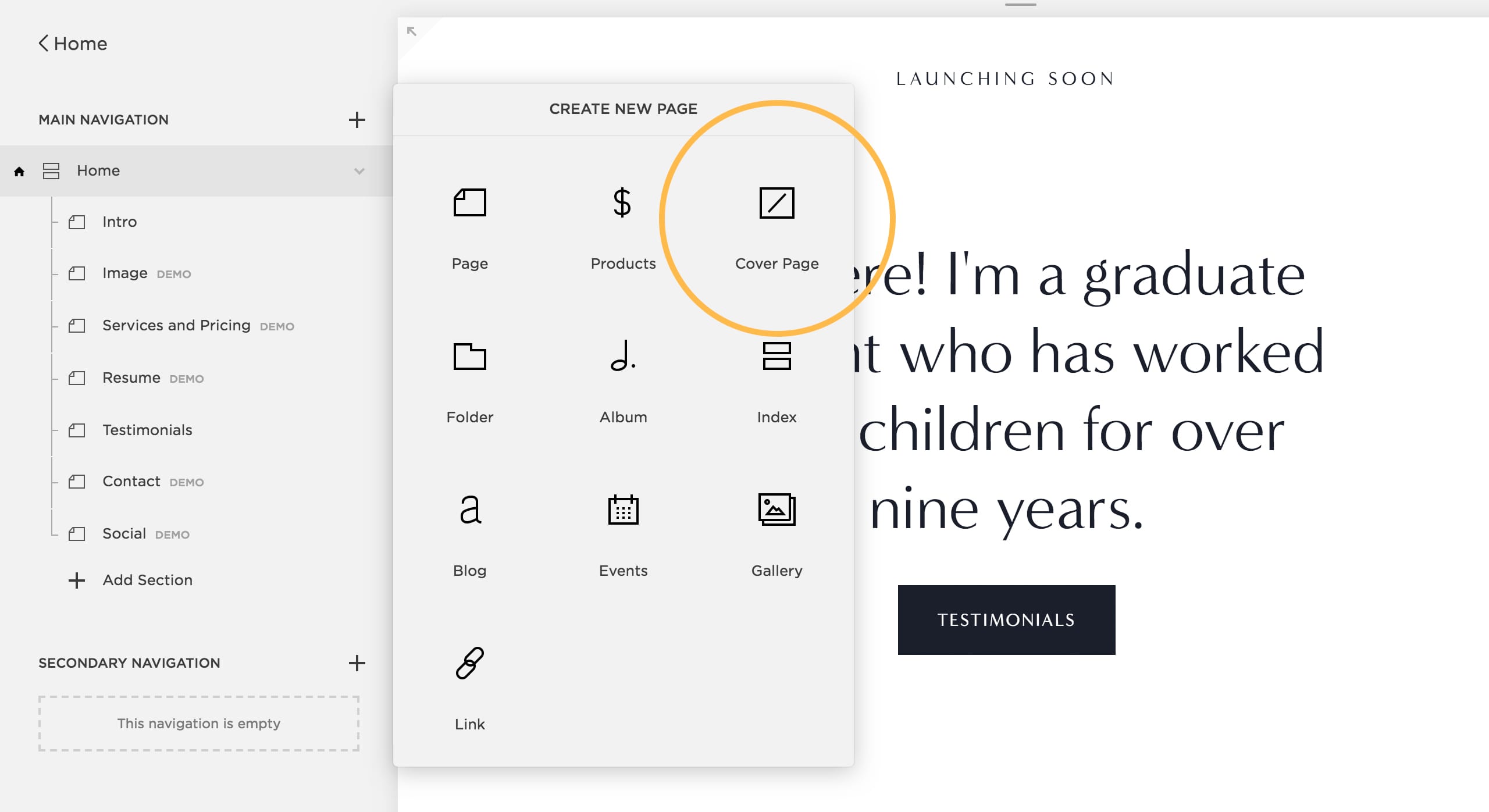 Step Three: Choose a Cover Page layout you love, I've chose the minimal "Landing – Cover" layout to tease an ingredient for our demo Juice and Snack product: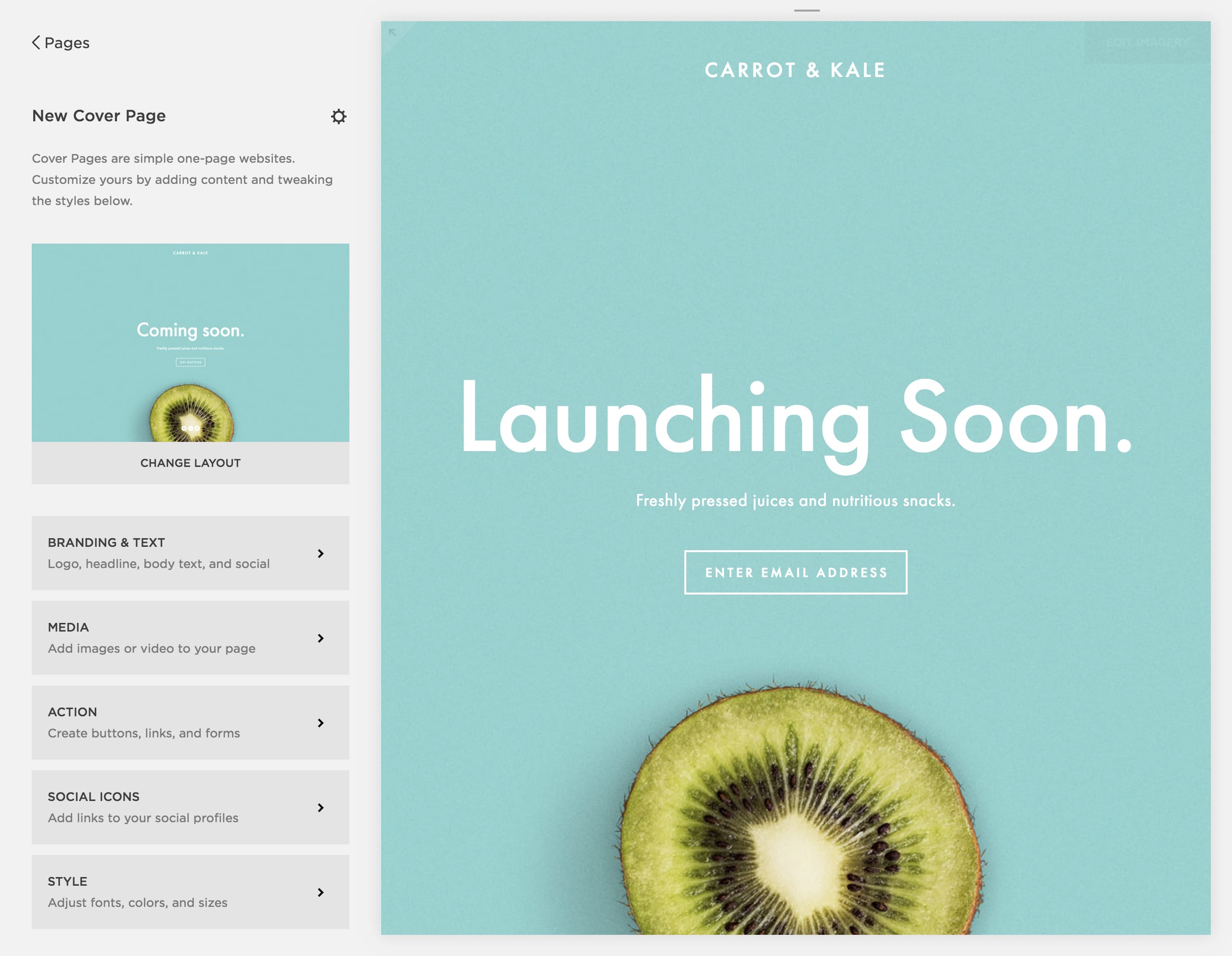 Step Four: Add your branding, text and media.
Step Five: Open up Action area of the Cover Page: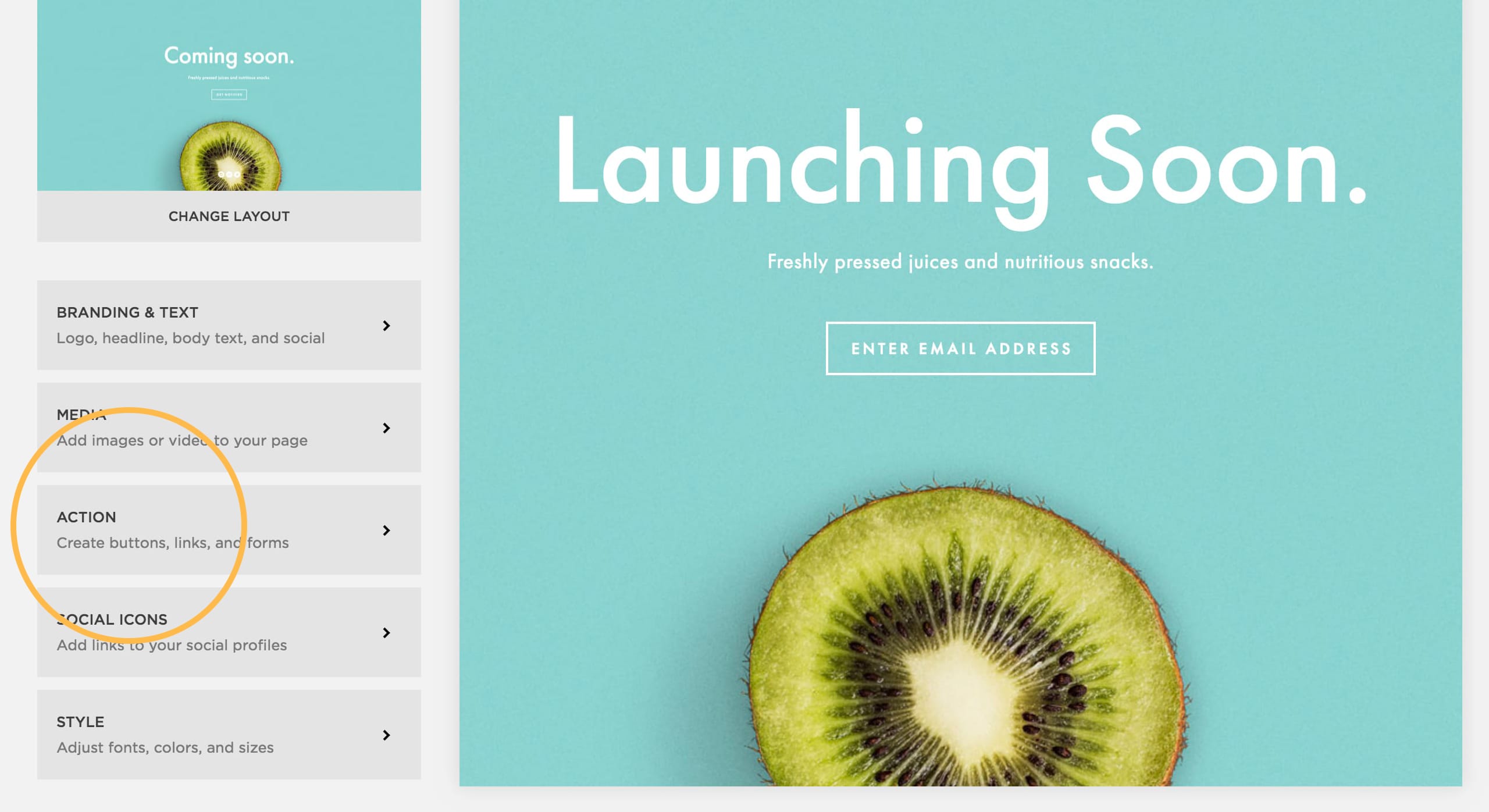 Step Six: Select Submission Type as Newsletter Signup: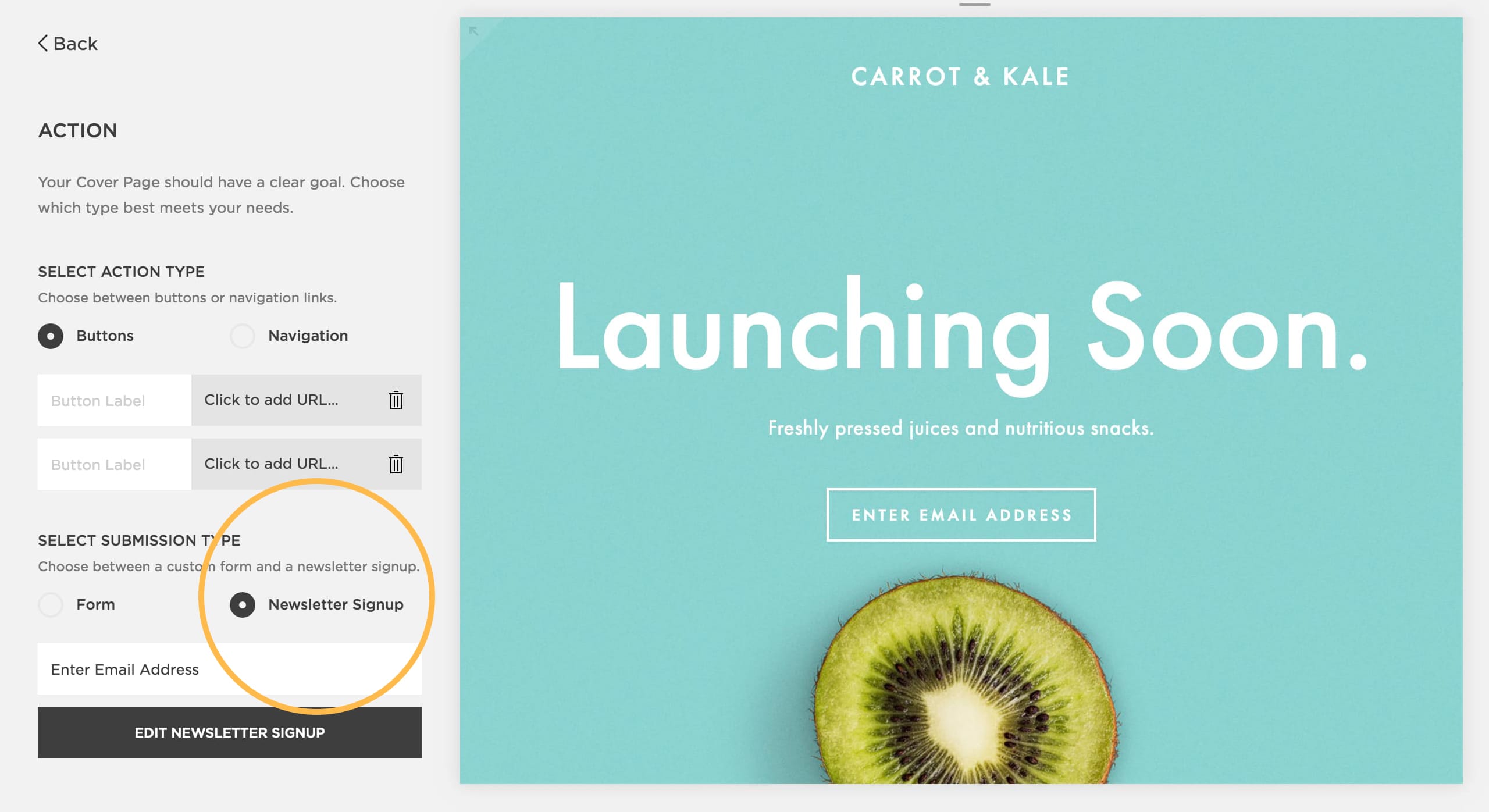 Step Seven: Click the Edit Newsletter Signup button and connect the new list to your Google Drive or to your new Email Campaigns feature if your Squarespace account has access.
Step Eight: Style the page if needed.
Step Nine: To set the Cover Page as the first page visitors see at your domain, set it as your Home Page.
Now you should have a great looking teaser Launching Soon page to announce and start gathering emails leading up to the big launch day:
---
FAQ: What are the benefits of using Squarespace?
Squarespace is a leading online website builder. What sets them apart is their superior level of design and award-winning customer support team available 24/7. Other main benefits are:
No Website Hosting Needed - their platform is fast and secure.
Online Content Management - all edits are done within your browser, no software needed.
Easily Drag and Drop Images - unlimited galleries with unlimited bandwidth.
Free Domain Name - when registering for your first website, if you pay annually (renews at standard rate).
Beautifully Responsive - all templates work for all devices, so you only have to design your website once. Test and preview how your website will appear on a range of screen sizes.
Blog Sections - can easily be added for content marketing and to share your journey.
Commerce Solutions - are an upgrade away if you want to start selling products.
Email Marketing - gather email addresses, send marketing emails and analyze the reader email activity.
Member Areas - create private website sections only accessible to signed-up or paying members.
Scheduling - add an online scheduler to your site to diversify your revenue with professional services or classes.
---
That's a wrap! Don't forget your 10% Off coupon*: OPL10
That's a wrap! Don't forget your 10% Off coupon: OPL10
OPL10
I hope enjoyed this tutorial on how to create a stunning Launching Soon website integrated with the Email Marketing Campaigns functionality for your launch. Props to Squarespace for creating a platform where we can create beautiful announcement websites, easily. If you missed it I wrote a tutorial last month on the Top 5 Squarespace Photography Templates.
* The OPL10 coupon offer only applies to first payment of subscription on Squarespace, does not apply to future recurring payments or monthly plans, and may not be combined with any other offer codes or discounts.
Much love,
Rob

Twitter: @robhope
Email: [email protected]