How to setup Squarespace Member Areas & monetize your content [video]
Squarespace Member Areas are private areas of your website, where you can provide premium content, exclusive to a signed up or paying group of your community.
In this detailed video tutorial I show you exactly how to setup Squarespace Member Areas from scratch, take you on a customer point-of-view transaction and premium content login, then end with answers to frequently asked Member Areas questions.
If there is are any specific areas you are struggling with, make sure you check out the timestamped chapters addressing specific obstacles.
I'm really excited to show you just how easy it is – let's get stuck in!
---
One Page Love Exclusive Coupon
OPL10
Yay! Squarespace has been kind enough to give One Page Love readers the exclusive coupon OPL10 for 10% Off* your first website or domain purchase. (There is a free 14-day trial with no credit card needed, so you can try risk-free.)
---
---
Tutorial Index:
00:00 – Tutorial overview
00:30 – Important: Member Areas is an add-on
00:48 – Important: Member Areas has no time limit to setup
00:59 – Coupon: OPL10 for 10% off
01:07 – The 3 types of memberships: One-time, Recurring & Free
01:38 – Tutorial objective using a fictitious design school
01:56 – Activate & Create a new Member Area
02:28 – Set membership type
02:41 – FAQ: Which page content type is best for premium content?
03:05 – Adding a portfolio content type for video tutorials
03:53 – Adding premium content with embedded unlisted YouTube vid
05:06 – Adding Support page with contact form
05:32 – FAQ: What is the default Member Areas home page?
05:46 – Adding a title to the Member Areas home page
06:13 – FAQ: How do I change the Member Areas navigation?
06:30 – Adding a header CTA button to Member Areas
07:01 – Adding a customer login link to main navigation
07:07 – Adding premium content teasers under free content
08:16 – Editing the Member Areas Access Denied Join page
08:38 – FAQ: Can I create a custom Member Areas Landing Page?
09:02 – Customer POV: Membership sign-up and payment
10:23 – FAQ: What Member Areas pricing plan is right for me?
11:28 – FAQ: What account options do my customers have? (Customer POV walkthrough of changing payment method, cancelling subscription and logging out)
12:00 – FAQ: What do Member Areas confirmation emails look like?
---
FAQ: What Squarespace Member Areas plan is right for me?
I want to emphasize Member Areas is an add-on. Pricing starts at only $9/month for Member Areas but only available in-addition to your Squarespace website. So if you have a standard Squarespace website ($16/month) added on the total cost would be:
$25 per month, if paying annually (see table below)
$33 per month, if paying monthly
There are 3 Member Areas pricing tiers (Starter, Core, Pro) but let's break them down visually to help understand the website add-on in the total cost:
Member Areas package:
Starter
Core
Pro
Number of member areas
1
3
10
Transaction fee
7%
4%
1%
Unlimited members
✓
✓
✓
Member Areas cost

Per month, if paid annually

$9
$18
$35
Squarespace website cost

Per month, if paid annually

$16
$16
$16
Total cost per month

Member Areas + website, if paid annually

$25
$34
$51
My advice is if you are selling low ticket items like a small premium tutorial for $19, choose the Starter plan at $9/month. You will be charged 7%, leaving $17.67 per sale.
If you are selling big ticket items like an extensive course spanning months for $1,000, choose the Pro plan at $35/month. You will be charged only 1%, leaving $990 per sale opposed to $70 if you were on the Starter plan taking 7%.
Please note there will be an additional small change over at your Payment gateway Stripe or PayPal.
---
FAQ: Is there still a monthly charge if the Member Area is free to join?
Yes, you have to pay $9/month for a free Member Area but you only start paying once you invite your first members to sign up. The reason it's not free is you can email these exclusive members using Squarespace Email Marketing, included in your $9/month price. It's worth reminding you can have 10,000 free members at only $9/month. There is no limit to members in a single Member Area.
---
FAQ: What Member Area account options do my customers have?
When arriving at the site, they simply log in using the main navigation. The main navigation with then feature the Members Only navigation for premium content as well as a new Account item (shown below). Clicking it opens up a bunch of useful options including adding new payment methods and even cancelling their subscription if they need. To log out they simply do so by clicking below their name.
---
FAQ: What Member Areas emails are triggered when a customer signs up?
There are 2 emails sent to you: the transactional email shown here and the second being a notification once a customer joins a membership. If you setup a free membership, you'll only get the second email: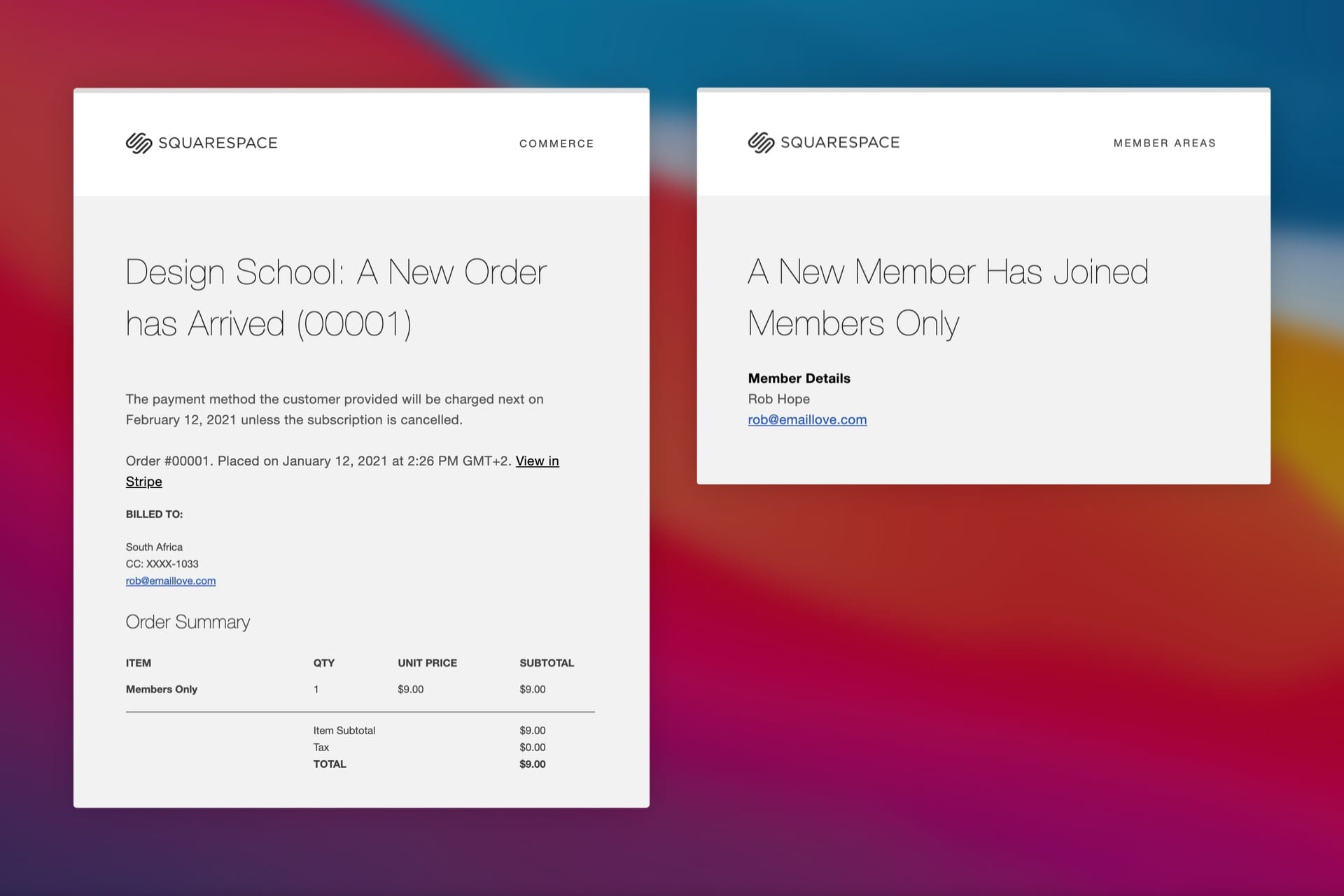 Your customer also gets two emails, the transactional confirmation and a friendly welcome email with a clear log in button.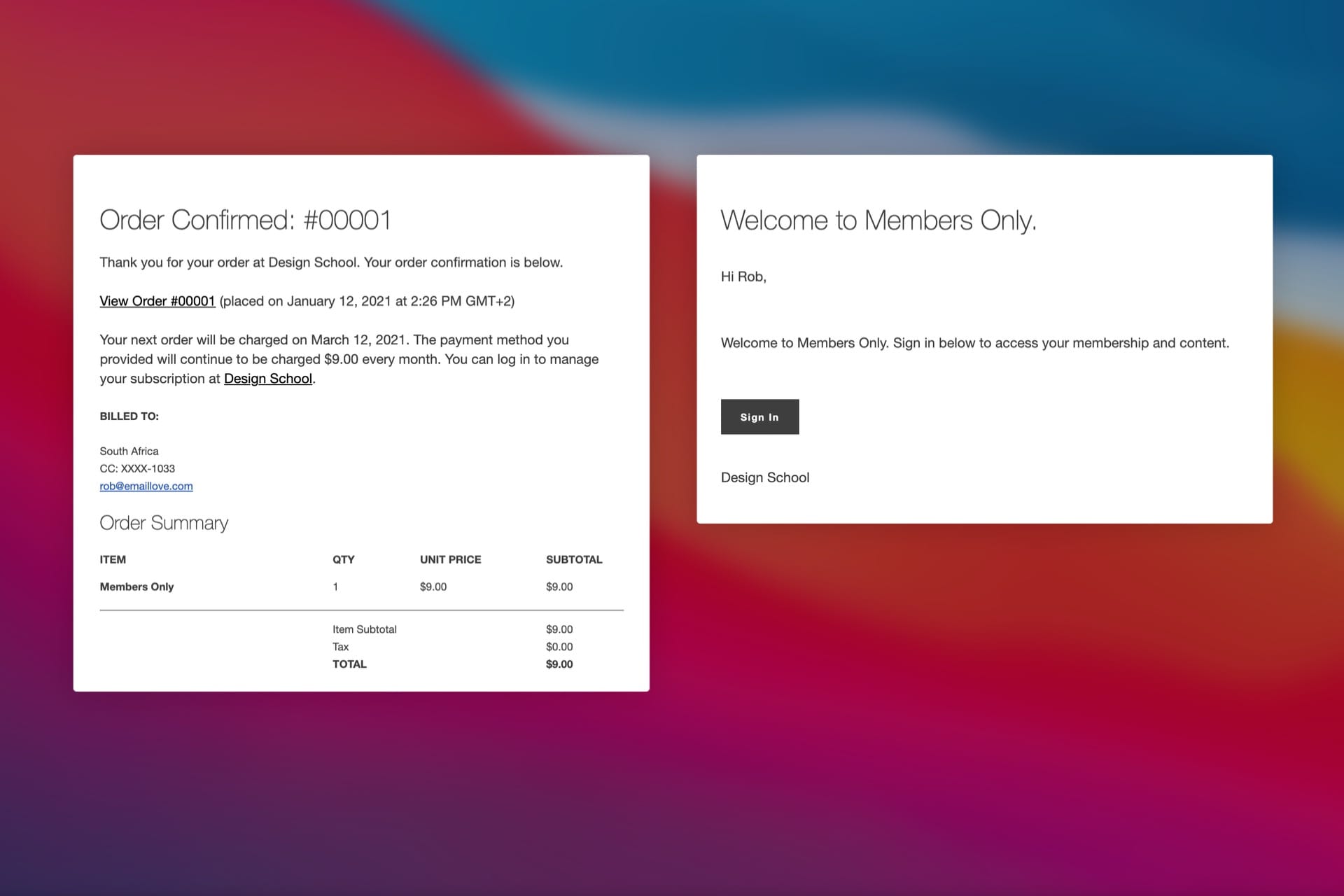 ---
FAQ: What are the benefits of using Squarespace?
Squarespace is a leading online website builder. What sets them apart is their superior level of design and award-winning customer support team available 24/7. Other main benefits are:
No Website Hosting Needed - their platform is fast and secure.
Online Content Management - all edits are done within your browser, no software needed.
Easily Drag and Drop Images - unlimited galleries with unlimited bandwidth.
Free Domain Name - when registering for your first website, if you pay annually (renews at standard rate).
Beautifully Responsive - all templates work for all devices, so you only have to design your website once. Test and preview how your website will appear on a range of screen sizes.
Blog Sections - can easily be added for content marketing and to share your journey.
Commerce Solutions - are an upgrade away if you want to start selling products.
Email Marketing - gather email addresses, send marketing emails and analyze the reader email activity.
Member Areas - create private website sections only accessible to signed-up or paying members.
Scheduling - add an online scheduler to your site to diversify your revenue with professional services or classes.
---
That's a wrap! Don't forget your 10% Off coupon*: OPL10
That's a wrap! Don't forget your 10% Off coupon: OPL10
OPL10
I hope you enjoyed this detailed setup tutorial of Squarespace Member Areas! Props to Squarespace for creating a platform where we can monetize our content, easily. In case you missed it, I recently curated the top Squarespace 7.1 templates to get started online.
* The OPL10 coupon offer only applies to first payment of subscription on Squarespace, does not apply to future recurring payments or monthly plans, and may not be combined with any other offer codes or discounts.
Much love,
Rob

Twitter: @robhope
Email: [email protected]