How to increase revenue with Print-On-Demand services using Squarespace
Print-on-demand (POD) is a product order fulfillment method where products are only printed (by a 3rd party) when an order is made.
A major benefit to this is how businesses can extend their product offering with very little additional effort or risk.
The 3rd party handles the production, packaging and shipping to the customer, while the business continues to focus on their core offering. A welcome new layer of revenue for your business and some could argue even a form of passive income!
Squarespace, the all-in-one platform for selling your products or services, has an impressive portfolio of third-party tools to help small businesses run more efficiently.
Amongst these tools are print-on-demand extensions to get you set up quickly so you can start earning additional revenue.
In this tutorial I show you how to set up a POD integration with Squarespace while answering frequently asked POD questions.
---
One Page Love Exclusive Coupon
OPL10
Yay! Squarespace has been kind enough to give One Page Love readers the exclusive coupon OPL10 for 10% Off* your first website or domain purchase. (There is a free 14-day trial with no credit card needed, so you can try risk-free.)
---
Tutorial Overview:
---
Before we get started, let's tackle the two main fulfillment terms that could be confusing.
FAQ: What (exactly) is the difference between print-on-demand and dropshipping?
Print-on-demand (POD) is a product order fulfillment method where products are only printed (by a 3rd party) when an order is made.
This means there is no inventory printed and stored in advance. The printing-on-demand is also fulfilled by a 3rd party, whose speciality is printing and logistics, allowing business owners to focus on their core skills.
A Squarespace website integrated with the Printful service would be a perfect solution to sell One Page Love sweatshirts like these: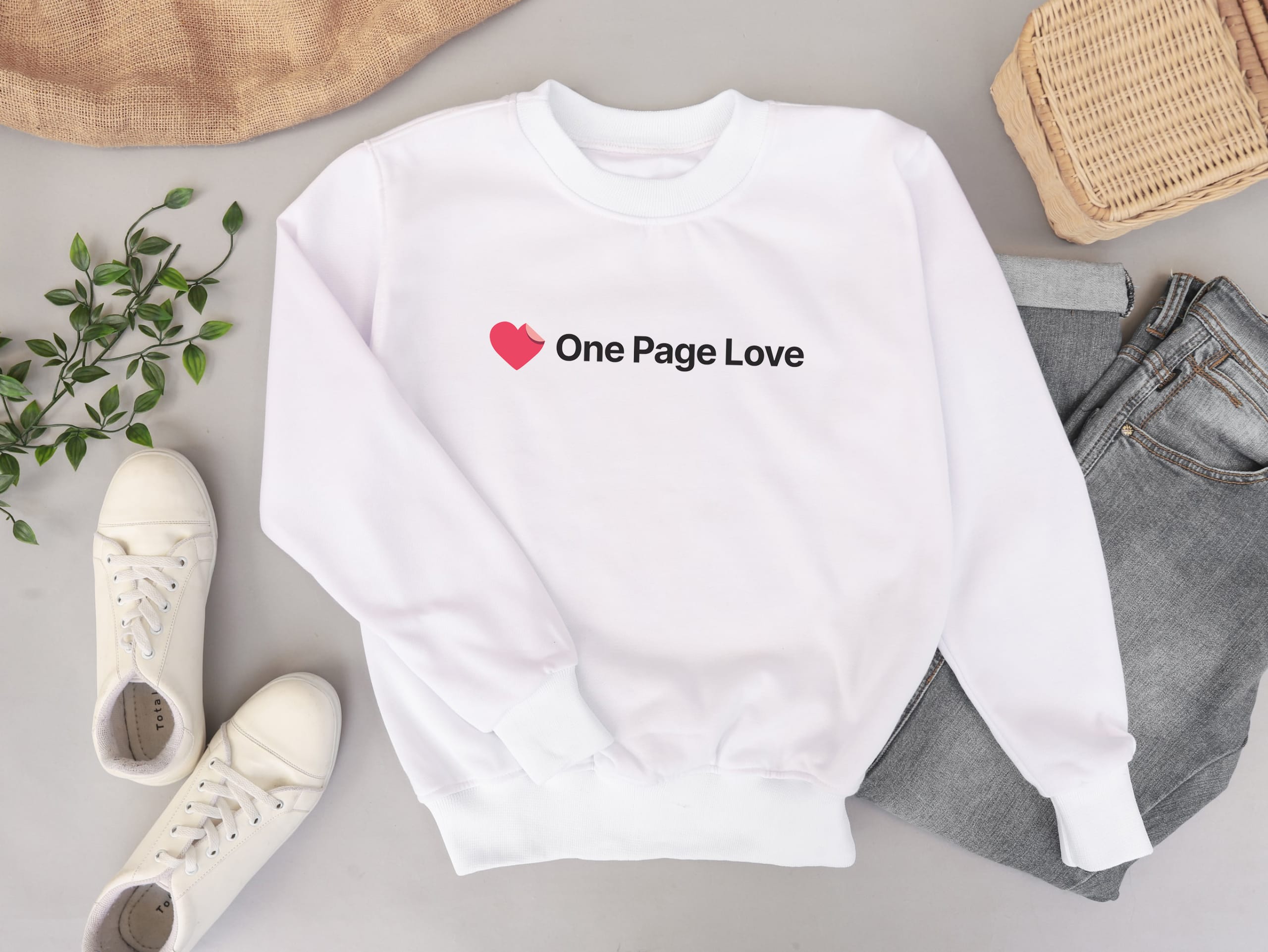 Dropshipping is similar to print-on-demand but the inventory is already manufactured, sitting in storage and waiting to be shipped by a 3rd party.
So the order is made on the business owner's website, who receives the payment. Then the system notifies the 3rd party who finds the product in storage, packages it and ships it to the customer.
A good example of dropshipping could be if you had a blog sharing advice for parents of newborn babies. In the store section your readers could order a range of handpicked baby toys and gear you think they would appreciate.
In most print-on-demand use-cases the store sends the 3rd party service a unique design or specification to start the order (think brand logos on merchandise).
In most dropshipping use-cases the store is reselling products already manufactured, so no customization (think baby toys across several brands).
Ok let's get started!
---
1 – Learn about print-on-demand services
To start you'll need to sign up at a POD service offering products matching your needs. These 3 POD services integrate flawlessly with Squarespace and are 100% free to set up. No minimum order requirements, no additional monthly fees:
---
👕 Printful (available worldwide)
Printful is your solution for custom merchandise like tees, sweaters and caps. There are over 300 quality products available to print on and no upfront costs, you only pay when you make a sale.
They also offer a product mockup generator, so you can upload your design, customize the placement and view it on any product type.
---
👜 Art of Where (available worldwide)
Art of Where makes it easy to build and maintain an art-based business. For example you can create your own leggings, silk scarves and handbags.
And just like Printful, there is also a mockup generator to experience your design on realistic product previews.
---
🖼 Printique (available in Canada, USA)
Printique is a professional photo lab delivering high quality fine art prints on frames, canvas and acrylic. Products are printed to order and there are no inventory costs.
Printique is perfect for designers, illustrators and photographers wanting to add another layer of passive income to their businesses.
---
2 – Sign up for a Business or Commerce plan at Squarespace
Sign up at Squarespace (using the coupon OPL10) then upgrade to the Business plan or higher to enable integration with 3rd party POD extensions.
Here is a quick comparison of the Business and Commerce plans to help you decide which to start with:
Both Business and Commerce plans can handle multiple areas of your online business from website uptime, security, unlimited blogs for content marketing, and include fully integrated E-Commerce. There is huge value in not having to worry about any of this!
The Business Plan at $23/month has a 3% transaction fee while the Commerce Plan at $27/month has no transaction fees.
The Advanced Commerce Plan at $49/month features powerful commerce add-ons like abandoned cart recovery, subscriptions and dynamic discounts (eg. save $20 if you spend over $100).
---
3 – Connect your print-on-demand service to Squarespace
To begin visit the page of your choice print-on-demand extension, then click the Connect to Site button.
For this tutorial I'm going to connect the Printful extension to my Squarespace website:
Allow permission between your Squarespace website and the extension:
Then sign up for a free account at the 3rd party print-on-demand provider:
FYI: to manage or view the active extensions integrated with your Squarespace account, head over to Main Navigation → Settings → Extensions.
---
4 – Add your product on the POD service
Within Printful, or the POD service of your choice, start to design your first product with the extension customization on offer:
Continue adding title, description, imagery and set the pricing.
Ensure the Product Visibility option is checked and visible in your online store.
Finally hit the Submit to Store button to sync your brand new product with your Squarespace store.
---
5 – Review your POD product in your Squarespace store
Head on back to your Squarespace account to see your POD product in your store.
As you continue to grow, you can replace these images with your own product photography.
---
6 – Share your new store
Once your new products are live on your website, it's time to promote your new merchandise to your audience and earn that first sale!
Learn how to market your products with the Squarespace Video Studio mobile app: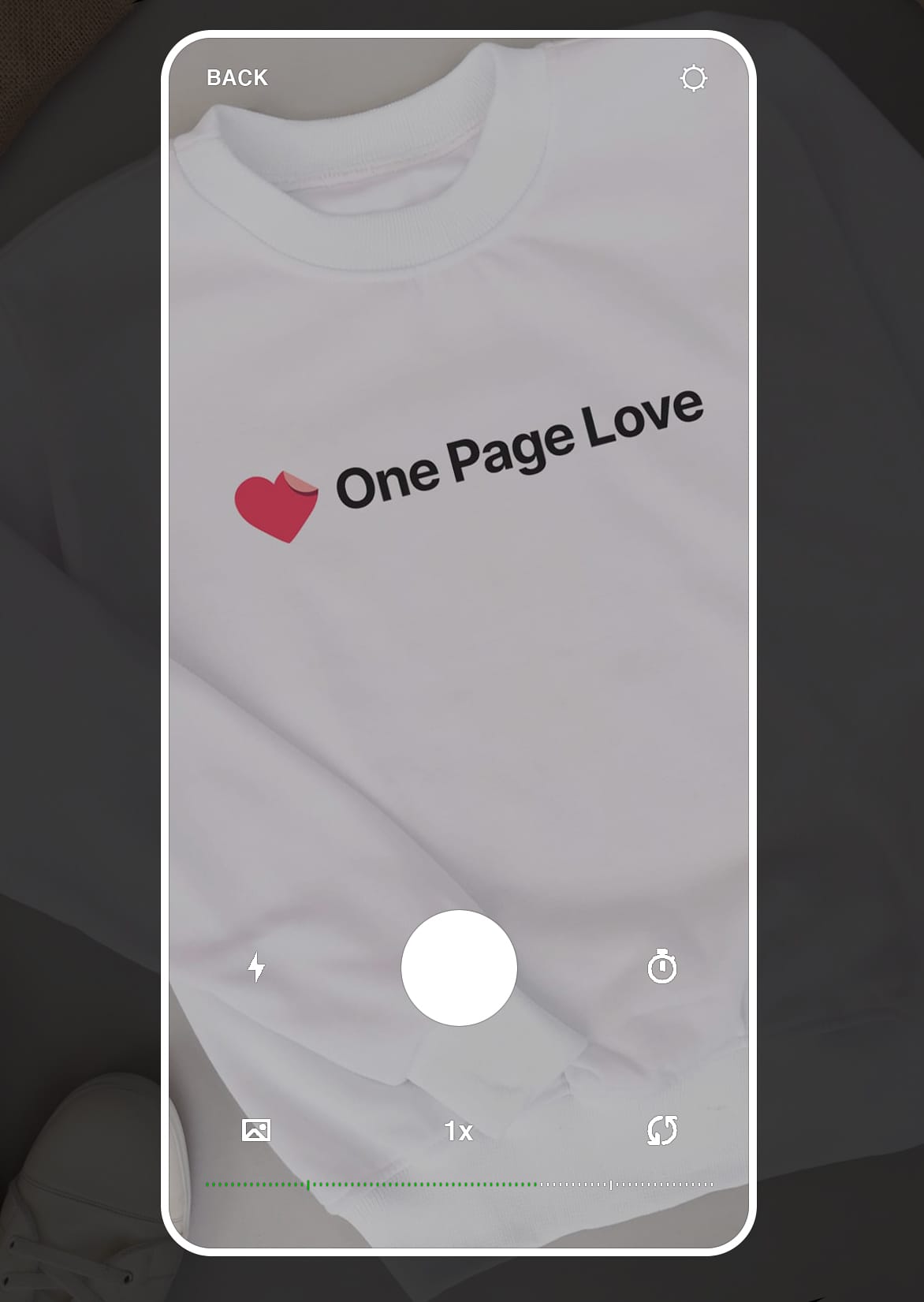 ---
FAQ: What are the benefits of using Squarespace?
Squarespace is a leading online website builder. What sets them apart is their superior level of design and award-winning customer support team available 24/7. Other main benefits are:
No Website Hosting Needed - their platform is fast and secure.
Online Content Management - all edits are done within your browser, no software needed.
Easily Drag and Drop Images - unlimited galleries with unlimited bandwidth.
Free Domain Name - when registering for your first website, if you pay annually (renews at standard rate).
Beautifully Responsive - all templates work for all devices, so you only have to design your website once. Test and preview how your website will appear on a range of screen sizes.
Blog Sections - can easily be added for content marketing and to share your journey.
Commerce Solutions - are an upgrade away if you want to start selling products.
Email Marketing - gather email addresses, send marketing emails and analyze the reader email activity.
Member Areas - create private website sections only accessible to signed-up or paying members.
Scheduling - add an online scheduler to your site to diversify your revenue with professional services or classes.
---
That's a wrap! Don't forget your 10% Off coupon*: OPL10
That's a wrap! Don't forget your 10% Off coupon: OPL10
OPL10
I hope you enjoyed this tutorial on how to automate your print-on-demand products! Props to Squarespace for creating a platform where we can set this up, with ease. In case you missed it, I recently published a tutorial on How to sell your first online course using Squarespace.
* The OPL10 coupon offer only applies to first payment of subscription on Squarespace, does not apply to future recurring payments or monthly plans, and may not be combined with any other offer codes or discounts.
Much love,
Rob

Twitter: @robhope
Email: [email protected]