Squarespace Landing Pages: Answers to 10 FAQs
Squarespace is a wonderful option for building long-scrolling Landing Pages online.
There are many website builders out there but none, in my opinion, feature such a high level of design. When it comes to a first impression, Squarespace will always position you ahead of the pack.
In this round-up I've answered the most popular questions I get over email, social media and YouTube when it comes to building a Squarespace Landing Page. If there is anything unanswered please email me and I'll be glad to help:) Let's dive in!
---
One Page Love Exclusive Coupon
OPL10
Yay! Squarespace has been kind enough to give One Page Love readers the exclusive coupon OPL10 for 10% Off* your first website or domain purchase. (There is a free 14-day trial with no credit card needed, so you can try risk-free.)
---
FAQ Index
---
FAQ: Do I need coding skills to use Squarespace?
No. I can confidently say you can build a beautiful Landing Page without one line of code. The Squarespace builder allows you to drag-n-drop Landing Page components, each with endless interactive styling options. The video in the next FAQ demonstrates a full Landing Page build with zero coding.
What if I want to code? It is also good to know the Squarespace platform has built-in features for adding custom code (CSS or advanced code injection) if needed. These code options are premium features, available only on the Business and Commerce plans.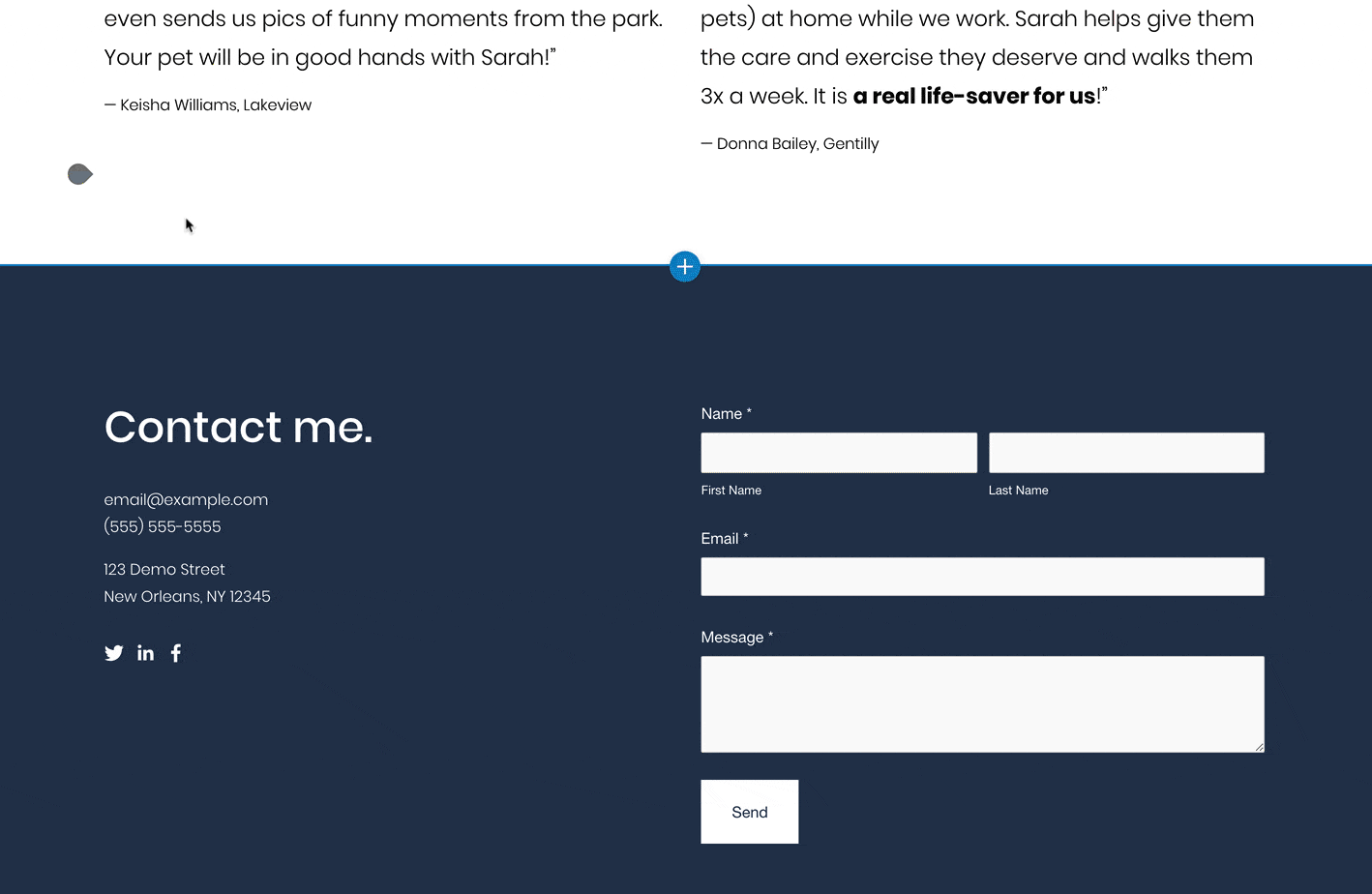 ---
FAQ: Can I build a long-scrolling Squarespace Landing Page with a sticky header navigation?
Yes. You no longer have to find a template with a sticky header navigation. Squarespace 7.1 has a more streamlined setup process for styling your site and adding content, meaning you can start with any template to add a sticky header.
In this video tutorial I show you exactly how to build a Landing Page from scratch featuring a sticky header navigation:
---
FAQ: Can I "smooth scroll" between Squarespace Landing Page sections?
Yes. Integrating smooth scroll is a wonderful way to improve your visitors browsing experience opposed to a quick "skip" to sections.
There are two methods to achieve smooth scroll using Squarespace 7.1:
Tutorial A: Insert code blocks with anchor links (difficulty 4/10)
Tutorial B: Link to page section IDs (difficulty 5/10)
If you are using Squarespace 7.0 please refer to my older tutorial: How to Smooth Scroll to Index Blocks using Squarespace.
If you are wondering if your website is on Squarespace 7.0 or 7.1 – simply identify where the demo expansion arrow is. Left is Squarespace 7.0, right is Squarespace 7.1:
---
FAQ: What is the best Squarespace template to create a Landing Page?
Squarespace 7.1 templates support all Squarespace features and style options, including an unlimited number of page sections. This is brilliant for building Landing Pages.
The main reason to pick a template to begin with, is it matches the aesthetic you are after, saving time. But remember regardless of what template you start with, you always have piece of mind any outcome can be achieved.
A good example of this is the Rey template pre-designed for a wedding RSVP. Creating a beautiful soft pastel color scheme with serif typefaces can take time. So Squarespace have saved you a few hours by starting with Rey if it matches your preferences:
---
FAQ: Can I duplicate Squarespace Landing Pages?
Yes, no problem. In the Page editor, hover over the page name and kick off the page settings. Then scroll on over to the Duplicate Page option:
It's also good to know that it's possible to duplicate full Squarespace sites. So if you have a winning Landing Page website on a dedicated domain. You are 1-click away from duplicating the Landing Page (and perhaps additional privacy and terms pages) onto a new domain where you can tweak the content much quicker than starting fresh:

---
FAQ: Can I create multi-language Squarespace Landing Pages?
The best (and quickest) way to achieve this is to duplicate your Landing Page like the above FAQ, then edit your text, retaining page structure and imagery.
You would then rename the Landing Pages according to the language, as seen in the top right navigation:
---
FAQ: Can I collect leads in Squarespace Landing Pages and where do they go?
Squarespace Email Campaigns allows anyone to gather email addresses in their Landing Pages, send marketing emails and analyze their email performance – all using the same Squarespace platform. You simply choose the design best suited to your needs out a brilliant range of Newsletter content blocks:
To learn more about Squarespace Email Campaigns here is a tutorial I published showing you exactly how to creating a list to store emails, choose a layout, customize the content and send your first campaign:
---
FAQ: Will Squarespace Landing Pages be optimized for mobile?
Squarespace websites are designed to ensure visitors can easily navigate on any device they choose, from desktops to tablets to smartphones. All Squarespace websites adjust on smaller browsers and fit the format of a device.
What's great is their editor has functionality to test and adjust Landing Page elements specifically for mobile. Here is a demo of their mobile view switcher:
---
FAQ: What currencies and payment types do Squarespace Landing Pages accept?
After settings up your Commerce store, you can connect to Stripe and/or PayPal payment processors. If you can, I would recommend offering both.
Stripe accepts:
Visa (credit and debit cards)
MasterCard (credit and debit cards)
American Express
Discover (US merchants only)
Diner's Club
JCB
Apple Pay
PayPal accepts PayPal and Venmo.
Regarding currencies, Squarespace currently supports:
Argentine Peso (ARS) – (Stripe only)
Australian dollars (AUD)
Brazilian Real (BRL)British pound (GBP)
Canadian dollars (CAD)
Colombian Peso (COP) – (Stripe only)
Czech Republic koruna (CZK)
Danish krone (DKK)Euro (EUR)
Hong Kong dollar (HKD)
Indian Rupee (INR)
Indonesian Rupiah (IDR) – (Stripe only)
Israeli shekel (ILS)
Malaysian ringgit (MYR)
Mexican peso (MXN)
New Zealand dollar (NZD)
Norwegian krone (NOK)
Philippine peso (PHP)
Polish zloty (PLN)
Russian ruble (RUB)
Singapore dollar (SGD)
South African Rand (ZAR) – (Stripe only)
Swedish krona (SEK)
Swiss franc (CHF)
Thai baht (THB)
US dollars (USD)
---
FAQ: Can I customize how Google displays Squarespace Landing Pages?
Meta tags define how your Landing Page looks within search results. Having your Title meta tag match the search term you are targeting can help improve your chances of ranking higher.
Squarespace SEO options are brilliant and make optimizing meta tags on different webpages an easy task. Simple open up the Page Settings and head over to the SEO section to begin Landing Page meta tag customization:
---
FAQ: What are the benefits of using Squarespace?
Squarespace is a leading online website builder. What sets them apart is their superior level of design and award-winning customer support team available 24/7. Other main benefits are:
No Website Hosting Needed - their platform is fast and secure.
Online Content Management - all edits are done within your browser, no software needed.
Easily Drag and Drop Images - unlimited galleries with unlimited bandwidth.
Free Domain Name - when registering for your first website, if you pay annually (renews at standard rate).
Beautifully Responsive - all templates work for all devices, so you only have to design your website once. Test and preview how your website will appear on a range of screen sizes.
Blog Sections - can easily be added for content marketing and to share your journey.
Commerce Solutions - are an upgrade away if you want to start selling products.
Email Marketing - gather email addresses, send marketing emails and analyze the reader email activity.
Member Areas - create private website sections only accessible to signed-up or paying members.
Scheduling - add an online scheduler to your site to diversify your revenue with professional services or classes.
---
That's a wrap! Don't forget your 10% Off coupon*: OPL10
That's a wrap! Don't forget your 10% Off coupon: OPL10
OPL10
I hope you enjoyed this Landing Page FAQ series! Props to Squarespace for creating a platform where we can create beautiful Landing Pages, easily. In case you missed it, I recently curated the top Squarespace 7.1 templates to get started online.
* The OPL10 coupon offer only applies to first payment of subscription on Squarespace, does not apply to future recurring payments or monthly plans, and may not be combined with any other offer codes or discounts.
Much love,
Rob

Twitter: @robhope
Email: [email protected]