10 reasons to start a membership business using Squarespace
Emailing content to your private newsletter subscribers has always worked as a form of community.
However, email does not feel nearly as prestigious as granting someone exclusive access to a private area within your own website.
Squarespace – the all-in-one platform for building and marketing a website – has a brilliant new membership add-on feature to achieve exactly this. Once the member of your community has signed up with email or paid using a credit card, they are automatically granted entry to your treasure chest of exclusive content.
A wonderful and exciting thought.
In this article I'm going to share 10 reasons (with visuals of the user interface) why Squarespace is a great choice to setup your own exclusive membership. Let's dive in!
---
One Page Love Exclusive Coupon
OPL10
Yay! Squarespace has been kind enough to give One Page Love readers the exclusive coupon OPL10 for 10% Off* your first website or domain purchase. (There is a free 14-day trial with no credit card needed, so you can try risk-free.)
---
Article Overview:
---
1. Monetize your passion
Squarespace offers an all-in-one platform to create a real membership business. A business where you are earning recurring revenue sharing your thoughts and expertise on a topic you love.
I started blogging about One Page websites – my passion – in 2008. Fast forward years later, I quit freelance as I successfully monetized my passion. It is possible.
Another example for the thought exercise could be someone who works at the bank but loves Yoga.
They decide to record a brilliant catalog of Yoga video tutorials only accessible to paying members. Each month he or she gains a few new subscribers and is now starting to earn a respectable layer of income, successfully monetizing their passion:
---
2. Easily protect premium content
There are 3 memberships types you can setup for your community to access private content:
One-Time – One payment for lifetime access.
Recurring – Subscription payments, access revoked if payment stops (you can also let members choose between monthly or annual payments).
Free – No charge but users must sign up for access using an email.
No matter which type is chose, your member will need to enter in their email address and password to access your premium content.
Here is a Landing Page I put together for an online course using Member Areas. Note the big call-to-action button to Enroll for $49 to access the premium content:
If they select the button, they are prompted to begin creating an account and ultimately pay using a credit card. There is no way to access the premium content otherwise:
Visit my tutorial on how to setup this course Landing Page here.
---
3. Host unlimited members
It's great to know there is zero limit to the amount of paying or free members your Member Area has. While we are on topic, let's break down the pricing showcasing how all 3 tiers have unlimited members.
Pricing starts at only $9/month for Member Areas but only available in-addition to your Squarespace website. So if you have a standard Squarespace website ($16/month) added on the total cost would be:
$25 per month, if paying annually (see table below)
$33 per month, if paying monthly
There are 3 Member Areas pricing tiers (Starter, Core, Pro) but let's break them down visually to help understand the website add-on in the total cost:
Member Areas package:
Starter
Core
Pro
Number of member areas
1
3
10
Transaction fee
7%
4%
1%
Unlimited members
✓
✓
✓
Member Areas cost

Per month, if paid annually

$9
$18
$35
Squarespace website cost

Per month, if paid annually

$16
$16
$16
Total cost per month

Member Areas + website, if paid annually

$25
$34
$51
No matter which option you choose, you have peace-of-mind with no additional costs when growing your Member Area.
---
4. Automated member sign up and onboarding
Members can pay or sign up for a membership using a Landing Page on your Squarespace website. This means while you are not online (or even sleeping) your website is working for you.
There are 4 emails triggered when a sign up event happens. Let's run you through them.
There are 2 emails sent to you: the transactional email shown here and the second being a notification once a member joins a membership. If you setup a free membership, you'll only get the second email: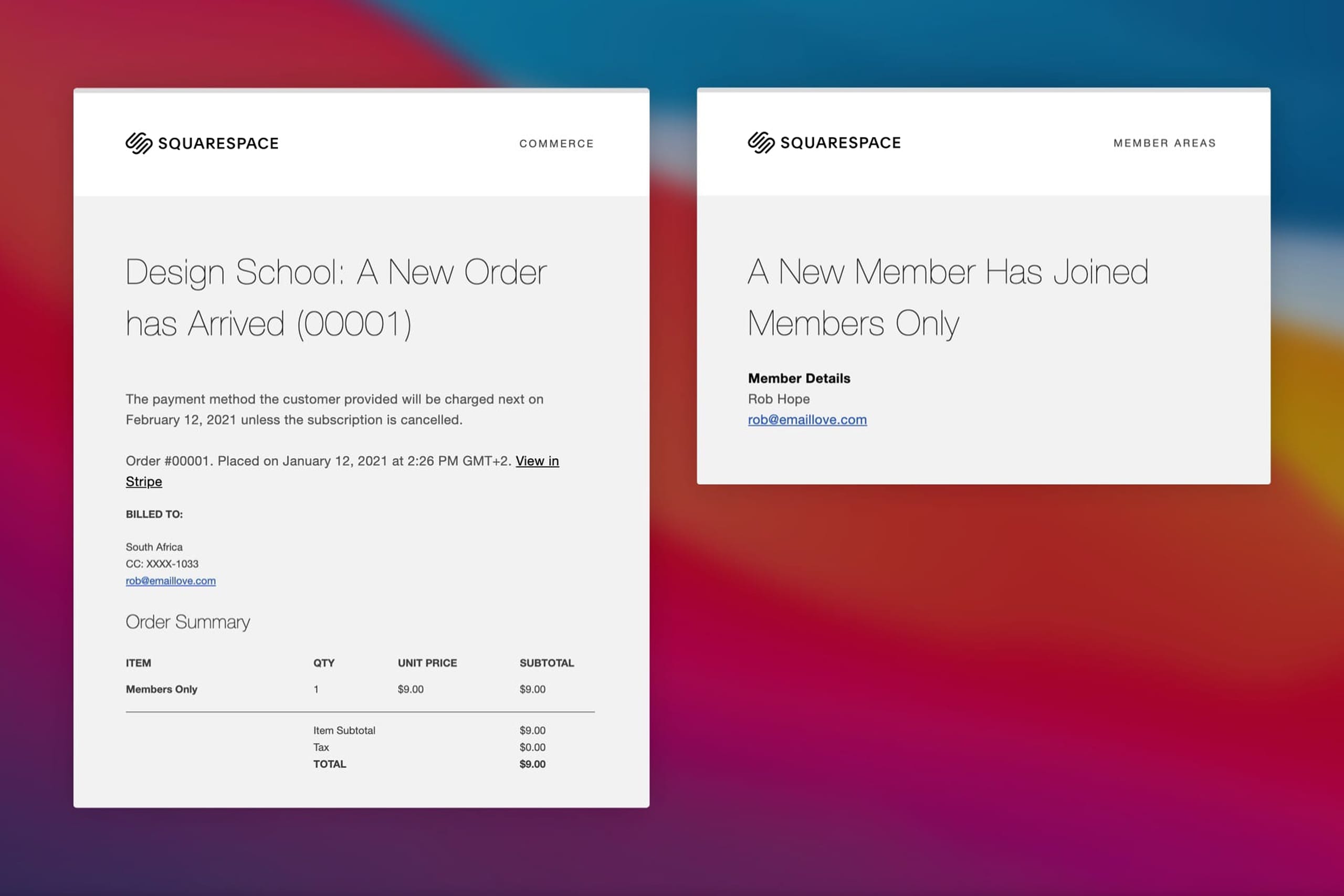 Your member also gets two emails, the transactional confirmation and a friendly welcome email with a clear log in button.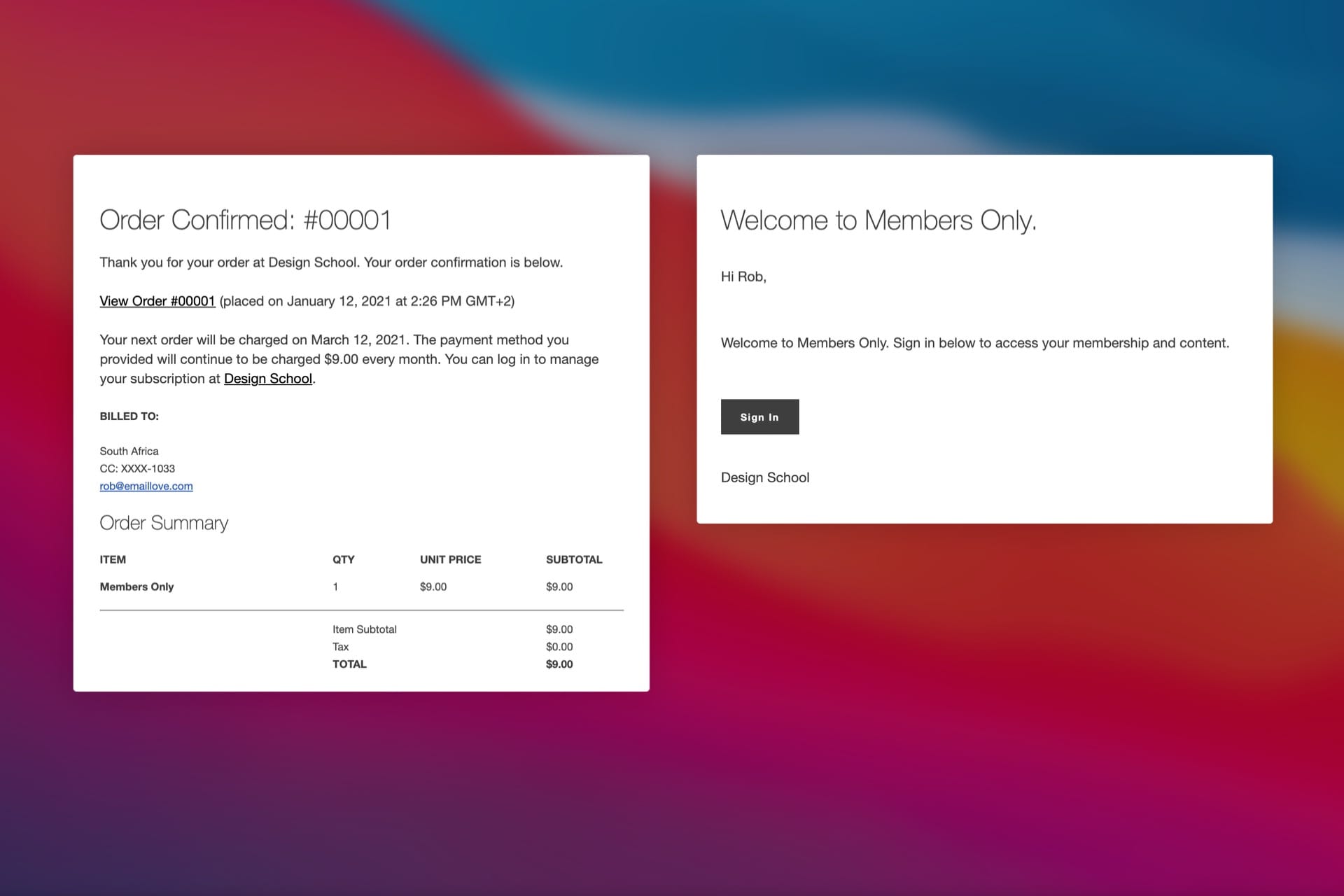 ---
5. Quick & free setup
You can add Member Areas to any Squarespace template within minutes.
But what's brilliant to know is only when you are ready to promote and start earning income, you then activate the add-on membership service by purchasing a Member Areas plan. There is no time or trial limit to experimenting with your Member Areas setup. You can add Member Areas to any Squarespace template within minutes, and purchase a plan once you are ready to promote your member experience and start earning income.
FAQ: Is there still a monthly charge if the Member Area is free to join?
Yes, you have to pay $9/month for a free Member Area but you only start paying once you invite your first members to sign up.
---
6. Email Marketing
Squarespace Member Areas integrates seamlessly with Squarespace Email Campaigns and only costs an additional $5/month to send up to 500 members.
A huge benefit of the Squarespace Email Campaigns platform is being able to send emails that look just as good as your Squarespace website. The same design aesthetic is integrated throughout Squarespace Email Campaigns.
In your Squarespace dashboard you head over to Marketing in the main navigation, then kick off Email Campaigns. To send your first campaign hit the big Create button on the left, and kick off a Blast campaign type:
Now choose an email template similar to your needs. There really are so many wonderful email template designs in here.
If you'd like a more comprehensive tutorial, I published this video walkthrough on how to design and send Squarespace Email Campaigns.
---
7. Custom tax rules
With Squarespace Member Areas you can set manual tax rates to choose where you'll collect sales tax. So when members buy a membership, they pay the tax rates you set.
You can also collect taxes from your members who live in specific:
Countries
Provinces in Canada
States and zip codes in the United States
---
8. Promotional discounts
With Squarespace Member Areas you can customize each discount's name, promotion type, how it's applied, and when it begins and ends.
For my Mastering Sourdough course mentioned earlier, I want to schedule a 50% off Black Friday special this November that runs for the weekend only. Here are my settings: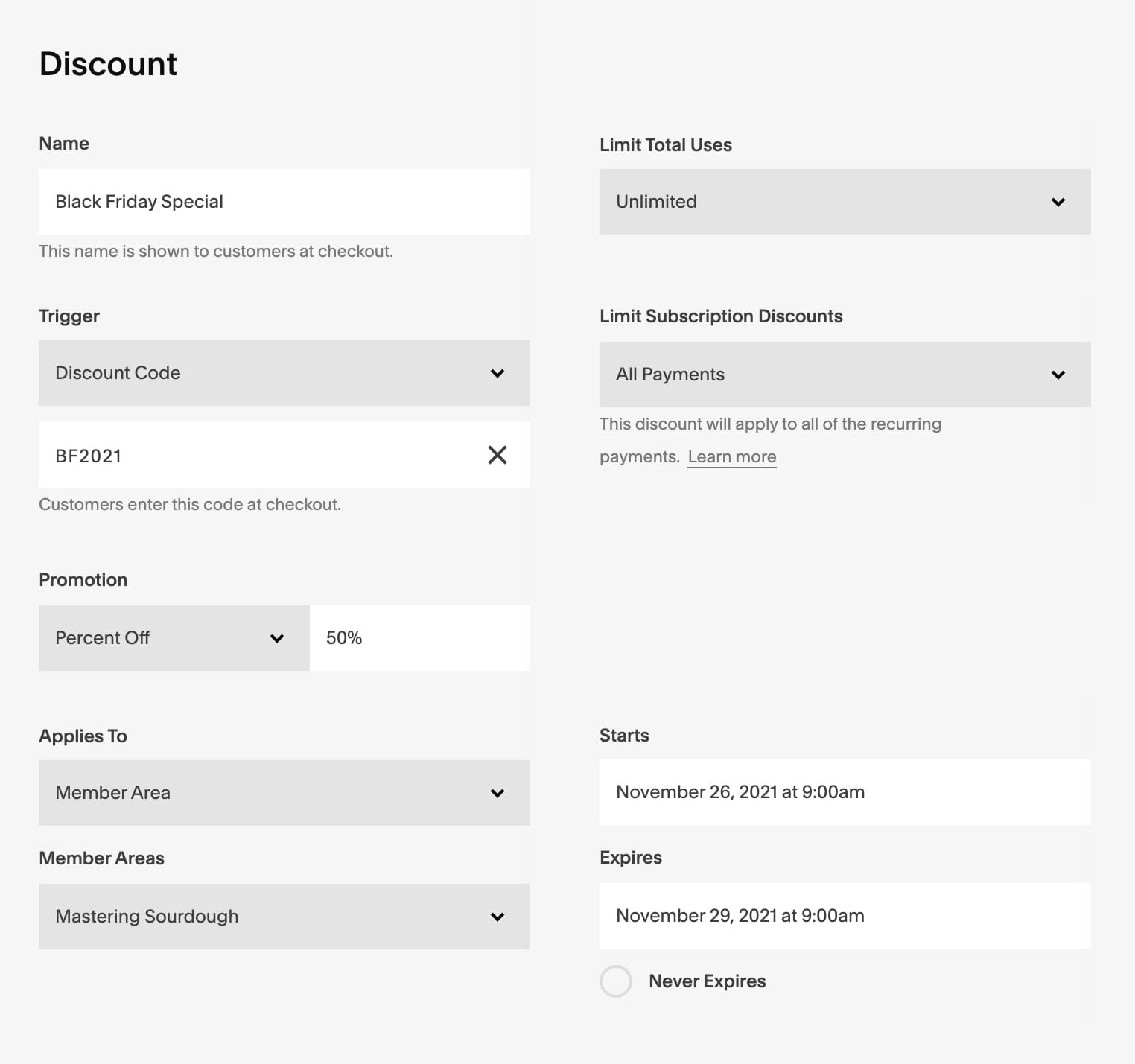 That results in this scheduled BF2021 coupon waiting to go live on 27 November 2021: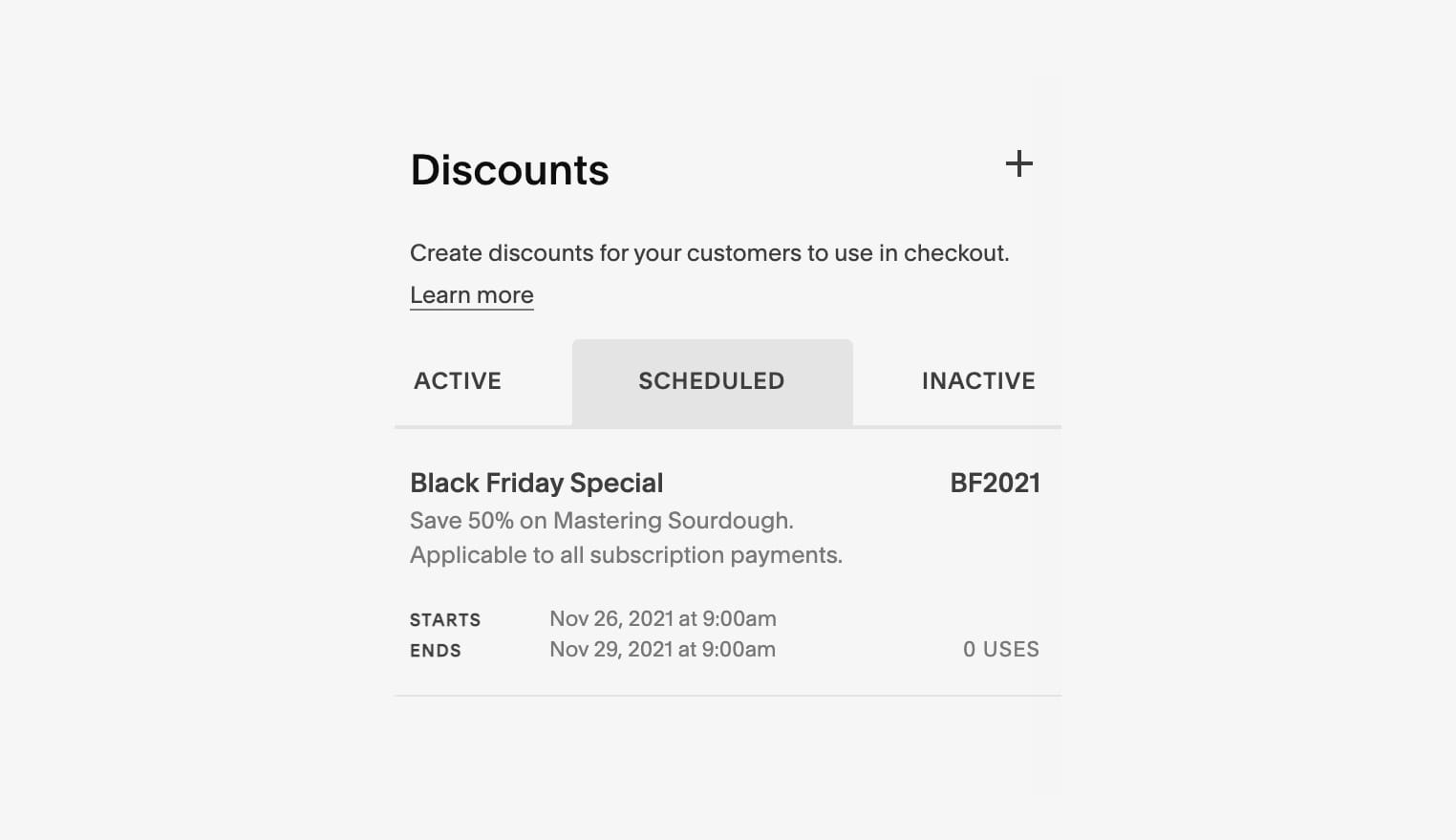 ---
9. Member account options
When arriving at the site, your member simply logs in using the main navigation. The main navigation will then feature the Members Only navigation for premium content as well as account (seen below).
Clicking it opens up a bunch of useful options including adding new payment methods and even cancelling their subscription if they need. To log out they simply do so by clicking below their name.
Members can securely save payment methods, shipping addresses, shopping carts, and order information in their member accounts, making for a faster checkout experience in the future.
---
10. Comprehensive Reporting
Squarespace offers easy exports for accounting software while also giving you the data you need to make future business decisions. Here is a screenshot of my Sales dashboard for my Member Areas tutorial demo with 1 paying member. Note the useful data options (around the page edge) for revenue, conversion rates, geographic location and even traffic sources:
---
Bonus: Strengthens Relationships
One of the most underrated benefits of a private membership is brand loyalty. Giving restricted access to members makes them feel exclusive and strengthens the relationship with your brand.
If you are still on the fence after reading this far or think you don't have enough content, I'd advise starting small. Identify one of your most popular bits of free content, then recreate a slightly more in-depth version of it. Add a few more resources too.
This new premium item can be upsold from your existing free item web page. A tried and testing model I'm confident is worth trying!
---
FAQ: What are the benefits of using Squarespace?
Squarespace is a leading online website builder. What sets them apart is their superior level of design and award-winning customer support team available 24/7. Other main benefits are:
No Website Hosting Needed - their platform is fast and secure.
Online Content Management - all edits are done within your browser, no software needed.
Easily Drag and Drop Images - unlimited galleries with unlimited bandwidth.
Free Domain Name - when registering for your first website, if you pay annually (renews at standard rate).
Beautifully Responsive - all templates work for all devices, so you only have to design your website once. Test and preview how your website will appear on a range of screen sizes.
Blog Sections - can easily be added for content marketing and to share your journey.
Commerce Solutions - are an upgrade away if you want to start selling products.
Email Marketing - gather email addresses, send marketing emails and analyze the reader email activity.
Member Areas - create private website sections only accessible to signed-up or paying members.
Scheduling - add an online scheduler to your site to diversify your revenue with professional services or classes.
---
That's a wrap! Don't forget your 10% Off coupon*: OPL10
That's a wrap! Don't forget your 10% Off coupon: OPL10
OPL10
I hope you enjoyed this overview on why you should consider Squarespace to start your next membership business! Props to Squarespace for creating a platform where we can sell memberships, with ease. In case you missed it, I recently published a tutorial on How to sell your first online course using Squarespace.
* The OPL10 coupon offer only applies to first payment of subscription on Squarespace, does not apply to future recurring payments or monthly plans, and may not be combined with any other offer codes or discounts.
Much love,
Rob

Twitter: @robhope
Email: [email protected]